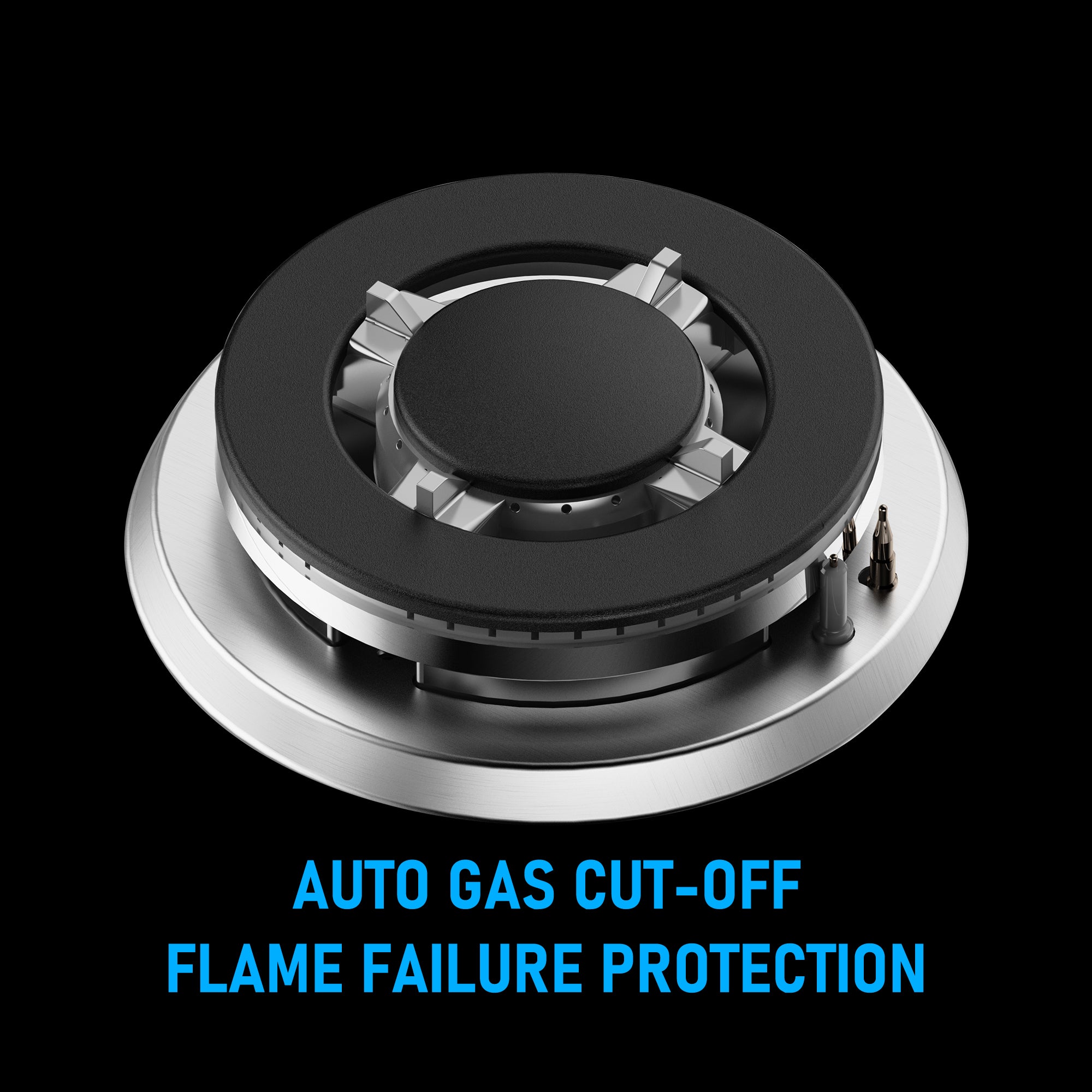 PROFESSIONAL AND HIGH END
Empava gas cooktop has US & Canada CSA certification. Its 2 World Class SABAF(Made in Italy)burners feature one of the latest flame failure thermocouples auto shut-off protection technology that prevents gas leaks to keep your home and family safe.
FLEXIBILITY
Empava gas cooktop offers 2 different versatile high-efficiency burners, a Dual-Ring 12000-BTUs burner, and a 4000-BTUs burner, each burner distributes even heat to meet a variety of cooking demands. Such as simmer, braise, fry, stir-frying, roast, steaming, boil, melting, or caramelizing.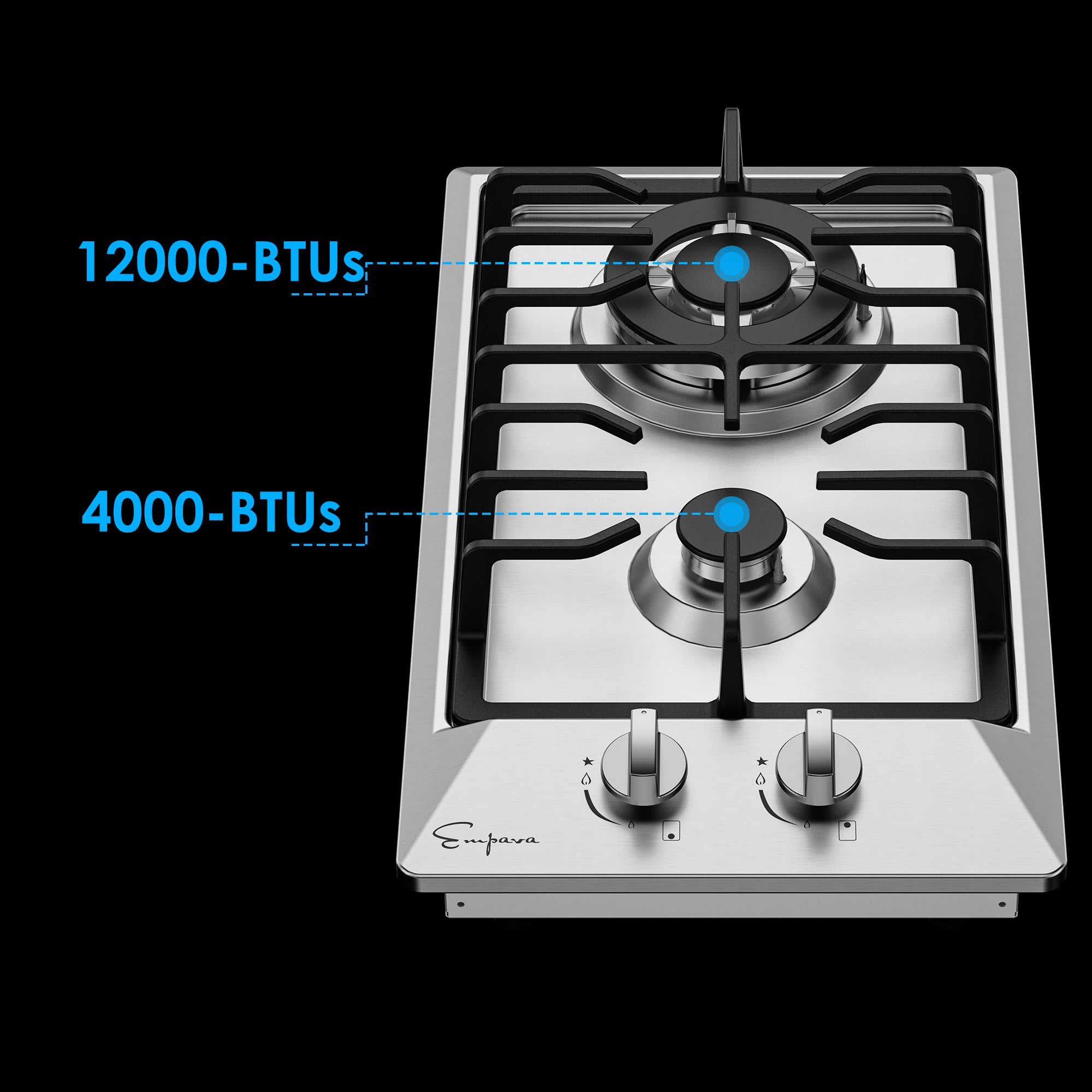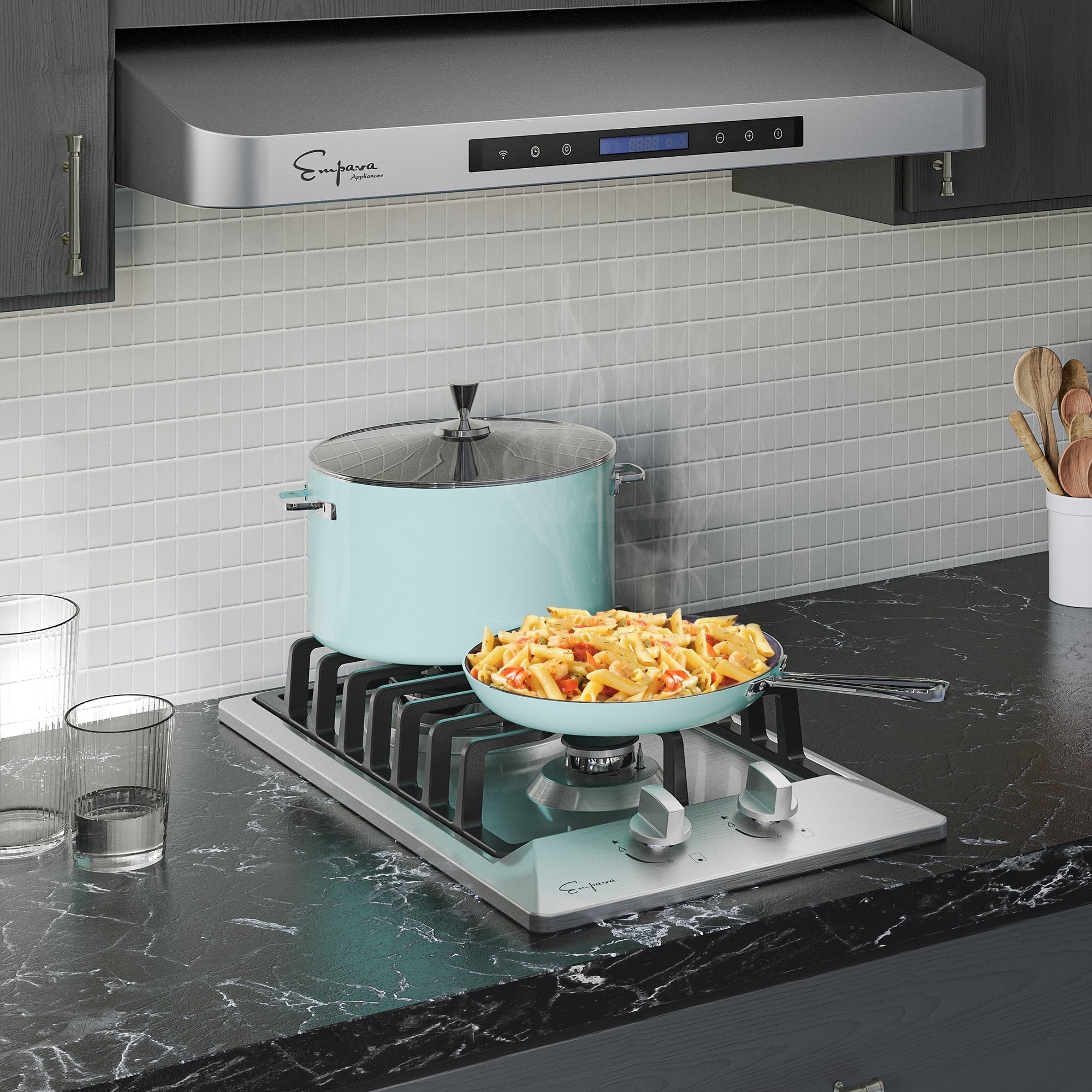 FIT MULTIPLE SITUATIONS
The Empava gas cooktop stove delivers the same maximum BTU power to propane and natural gas cooktops (Default Natural gas)-works manually without electricity, capable for multi-purpose such as RVs, light cooking family, small kitchen, mobile home, and outdoor use, etc. (Both LPG/NG Nozzles Included).
DURABLE MATERIAL
The Empava cooktop surface is made of 16 gauge stainless steel; galvanized sheet bent bottom shell, and front brushed electroplated metal knobs, which can withstand high temperatures. Heavy-duty araneid cast-iron cooking grates are perfect to keep the pot stable.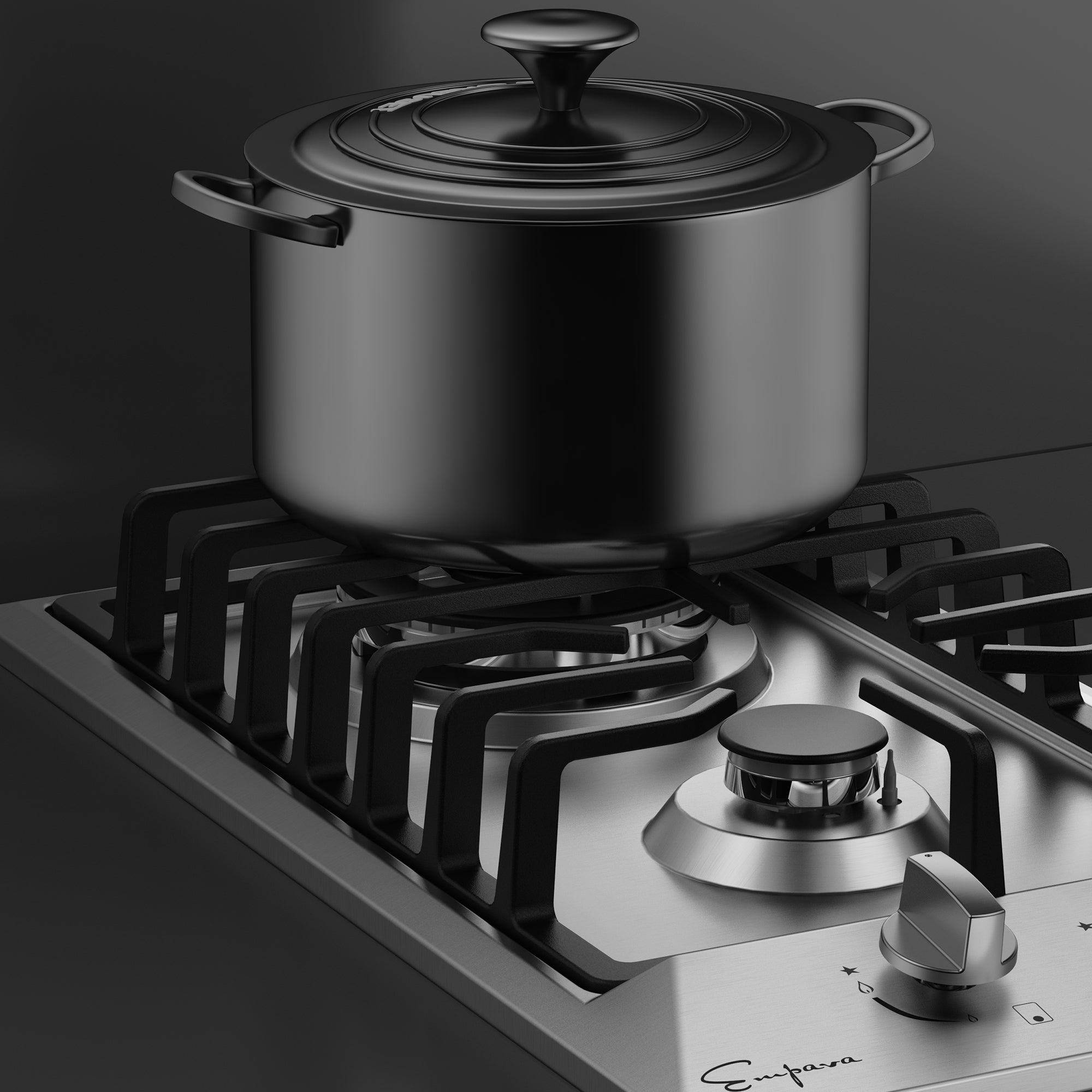 Warranty

2 Years Warranty

Product Dimension

12 in. L x 21 in. W x 4.5 in. H

Cutout Dimensions:

10.62 in. L x 19.21 in. W

Built-in Dimension

10.67 inches x 19.13'' inches

Fuel Type

LPG / NG(LPG conversion kit included)

Ignition Type

AC Electronic Ignition

Included

110/220VPre-installed 110v power cord, Natural Gas Regulator, and LPG Nozzles, LPG Conversion Kit

 Packing List

1 x Gas Cooktop




1 x Installation Set




1 x LPG conversion kit




1 x User Manual
Shipping:
We offer "free ground shipping" for all US orders except: Alaska, Guam, Hawaii and Puerto Rico, where our shipments are not covered. For Canada orders, we charge a shipping fee. For different product categories, we offer different shipping fees because the weight and size are different.
Shipping Method:
(1)Standard / small orders ship out via: USPS, UPS and FedEx.
(2)For large items( pizza oven etc.), multiple items or large orders we use LTL freight.
Shipping Time:
(1)Standard shipping: 5-7 business days For Us orders, 10-15 business days for Canada orders

(2)LTL shipping: 7-14 business days For US orders, 10-15 business days For Canada orders
Once an order has shipped we are unable to change or modify it for any reason. For orders that use the LTL shipping method, if the consignee requests to change the destination, the shipment will return to the shipper and we will issue a refund less the 20% restocking fee. For Canada order, we will deduct 30% of your total refund amount. For a defective return, we will bear the return shipping cost and a full refund will be sent back to your account.

* All LTL orders need to be accepted for delivery within 5 days of the shipping carrier contacting you to set up a delivery date. For any order not accepted within 5 days, refused, or return to the sender a fee of 20% will be assessed. 30% for Canada order.
For all pick up orders, please state in the order that you intend to pick up the order from our warehouses.  All orders must be picked up by the name listed on the order when placed and with a valid identification card. If the order is not picked by the end of 7 days since the order was placed.  We will cancel the order and issue a refund.
Order Processing Time: 1-2 business days for both US and Canada orders
*Business days don't typically include weekends, however Saturday and Sunday deliveries may occur in certain zip codes.
*If you need to request a cancellation or make any changes to your order. Please contact our customer support as soon as possible by telephone at (888-682-8882) or email at (support@kitchenappliancestore.com) Monday - Friday from 9am -5pm PST. Unfortunately once an order has been sent to our warehouse we cannot guarantee cancellation or changes as to we are working quickly to get your order to you.
*Empava Appliances is not responsible for any USPS, UPS, FedEx or LTL delays in delivery.
Returns:
1: If you would like to return an item, please contact our customer support via email at (support@kitchenappliancestore.com) or telephone (888 682-8882) Monday - Friday from 9 am -5 pm PST to request a return within 30 days of delivery for a full refund. When contacting our support team ensure you provide them with your return reason.
2: Returns made without approval will not be accepted as to we have different return addresses for different products.
3: For returns due to buyers remorse (ie: Order by mistake, Does not fit, Change my mind, No longer needed, etc) customers are responsible for the return shipping cost along with a 20% restocking fee applied, 30% for Canada order. You should also save your tracking number to confirm when your item has been received at our location. Items being returned due to defects or quality issues a pre-paid return label will be provided to you upon you providing us with any pictures/videos showing the issue you are encountering.
4: If an item is found to be damaged in shipping. Do not accept or sign for the product. Simply refuse the package with the carrier and contact our customer support asap.
I am pleased with the gas cooktop.
I am pleased with the gas cooktop. Easy to keep clean since grates can be removed very easy. Thank you for making a quality product at a reasonable price!
Powerful
A little too powerful, burners cannot be turned down enough to simmer, need more adjustability
Hey Russell,
Thank you for your feedback regarding our burners. We appreciate your input and we understand that having more adjustability in controlling the heat for simmering is important to you.
We value your feedback and take it seriously when it comes to improving our products. We'll definitely take this into consideration for future designs and adjustments to ensure a better cooking experience for our customers.
If you have any other suggestions or questions, feel free to let us know. We're here to assist you!
Best,
Empava
seems great but yet to be working
I would have appreciated that this stove come with the correct gas line to hook up to a propane tank....otherwise seems great!
Hi Elie,
Thank you for the review. It's always disappointing when a product doesn't come with everything you need to use it right away. However, we are glad to hear that the stove seems great otherwise. If you have any questions, we are able to offer a solution that works for you.
Hope you enjoy your gas cooktop.
Best,
Empava
Nice Product
I bought a pair of 12" dual burner cooktops 8 months ago for my mom to replace some 1950's vintage units. Installation was straightforward, and they look and function very well. The profile of the cast iron grates is a tad taller than I would like, but overall it was a great purchase.