Unleash Your Culinary Potential

The wall oven offers a cooking capacity of 2.3 cubic feet, featuring 5 rack positions to accommodate various culinary needs. It comes complete with a convenient baking tray and a rack. The surface is designed to resist stains and heat discoloration, ensuring easy maintenance with just a quick wipe-down. The enamel tank further simplifies the cleaning process.
Adopt Anti-Scalding Design For Safety

Our ovens feature triple-layer tempered glass and innovative low-radiation coating technology. The low-radiation glass not only ensures faster heating, using up to 2.5 times less energy, but also keeps the outer surface of the oven cool to the touch, eliminating the risk of burns and injuries. This advanced safety measure is particularly beneficial for families with children, providing an added layer of protection against potential harm.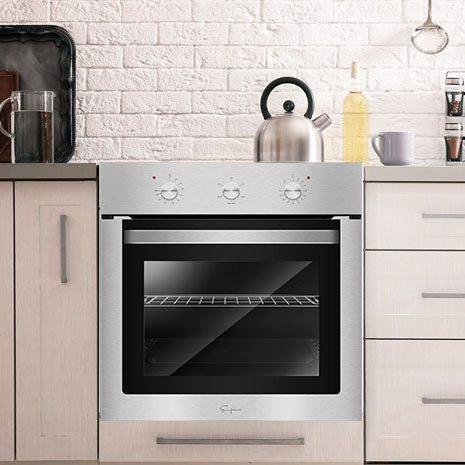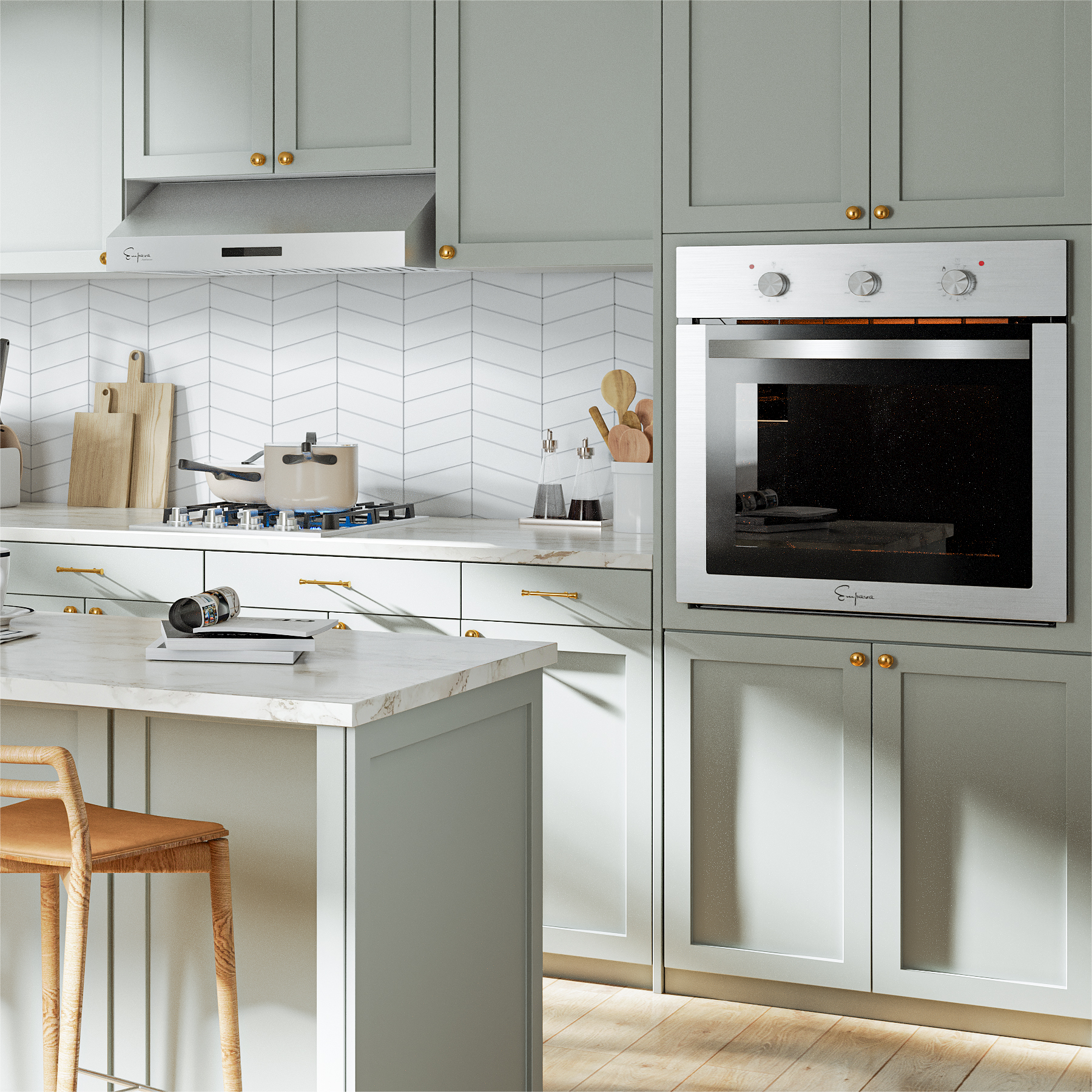 The Perfect Blend of Style and Functionality

The Open View Oven Window unveils a tantalizing sight of your food while it cooks, eliminating the need to open the door. With its user-friendly interface and responsive mechanical controls, this oven combines elegant design details with effortless functionality, making it the ideal choice to elevate your kitchen to new heights.
| | |
| --- | --- |
| Item Weight | 64 pounds |
| Item Dimensions | 23.43 x 20.67 x 23.43 inches |
| Capacity | 2.3 Cubic Feet |
| Minimum Circuit Breaker Amperage | 20Amp |
| Wattage | 2000 watts |
| Voltage | 240 Volts |
| Fuel type | Electric |
| Installation Type | Built-In |
| Material Type | Stainless Steel |
| Warranty | 2 Years |
Shipping:
We offer "free ground shipping" for all US orders except: Alaska, Guam, Hawaii and Puerto Rico.
Shipping Method:
(1)Standard / small orders ship out via: USPS, UPS and FedEx.
(2)For large items( pizza oven etc.), multiple items or large orders we use LTL freight.
Shipping Time: Standard shipping: 5-7 business days. LTL shipping: 10-14 natural days.
Once an order has shipped we are unable to change or modify it for any reason. For orders that use the LTL shipping method, if the consignee requests to change the destination, the shipment will return to the shipper and we will issue a refund less the 20% restocking fee.

* All LTL orders need to be accepted for delivery within 5 days of the shipping carrier contacting you to set up a delivery date. For any order not accepted within 5 days, refused, or return to the sender a fee of 20% will be assessed.
For all pick up orders, please state in the order that you intend to pick up the order from our warehouses.  All orders must be picked up by the name listed on the order when placed and with a valid identification card. If the order is not picked by the end of 7 days since the order was placed.  We will cancel the order and issue a refund.
Order Processing Time: 1-2 business days.
*Business days don't typically include weekends, however Saturday and Sunday deliveries may occur in certain zip codes.
*If you need to request a cancellation or make any changes to your order. Please contact our customer support as soon as possible by telephone at (888-682-8882) or email at (support@kitchenappliancestore.com) Monday - Friday from 9am -5pm PST. Unfortunately once an order has been sent to our warehouse we cannot guarantee cancellation or changes as to we are working quickly to get your order to you.
*Empava Appliances is not responsible for any USPS, UPS, FedEx or LTL delays in delivery.
Returns:
1: If you would like to return an item, please contact our customer support via email at (support@kitchenappliancestore.com) or telephone (888 682-8882) Monday - Friday from 9 am -5 pm PST to request a return within 30 days of delivery for a full refund. When contacting our support team ensure you provide them with your return reason.
2: Returns made without approval will not be accepted as to we have different return addresses for different products.
3: For returns due to buyers remorse (ie: Order by mistake, Does not fit, Change my mind, No longer needed, etc) customers are responsible for the return shipping cost along with a 20% restocking fee applied. You should also save your tracking number to confirm when your item has been received at our location. Items being returned due to defects or quality issues a pre-paid return label will be provided to you upon you providing us with any pictures/videos showing the issue you are encountering.
4: If an item is found to be damaged in shipping. Do not accept or sign for the product. Simply refuse the package with the carrier and contact our customer support asap.
The fan is much quieter than the old one
We purchased a self-cleaning whirlpool wall oven a couple of years ago. Found out that using the self cleaning feature would over heat the oven and cause it to need repairs. Decided to cut our losses and buy this oven for the price of repairing the other. The oven has be quite nice. The fan is much quieter and amazingly it just turn on and off as requested. It was easy to install and we have been enjoying its reliability. If we could purchase an extra rack for it we would be thrilled.
Empava 25" Electric Wall Oven
This oven was perfect for our small family. Works and cleans easily. Heats quickly but doesn't overheat our home. Would highly reccomend!
A 20lb turkey fit just fine in it no problem!
Ordered a wall oven and had installed, great price for this appliance. Waited to give a review because I wanted to see how it held up for the holidays and it has performed excellent. I went with a smaller one because we eat more fresh vegetables then anything but this little guy has surprisingly large amount of space. A 20lb turkey fit just fine in it no problem. Good price and great appliance.
Easy to install, awesome
So excited to use my new Empava oven! It was easy to install and only took about an hour (removing old one and installing new one). I love the timer feature and the ease of use! It is great for the small space that I have for the oven! (I misjudged the measurements and now I also have a great shelf above it). Isn't it awesome!
Simple and good oven for a inexpensive price
It works well. The bake function uses the top and bottom heating element. The bottom heating element is hidden underneath a bottom cover. The oven has a timer, that is sometimes tight when you first start to use it, but then loosens up and goes off at the time you set it to go off.
Hi Laraine.
Thank you for taking the time to leave a positive review! We are thrilled to hear that our oven is working well for you and that you are satisfied with its performance.
We are happy to hear that you have noticed the innovative design with the hidden bottom heating element, which is intended to distribute heat evenly throughout the oven while making cleaning easy.
Regarding the timer, we appreciate your feedback and understand that it may be a bit tight when the oven is first being used, but typically loosens up over time. If you encounter any further issues with the timer or any other aspects of your oven, please do not hesitate to contact us, as we are always happy to help.
Thank you again for your positive feedback and supporting our brand. We hope to continue to exceed your expectations in the future!