Upgrade Your Beverage Storage With Energy-Efficient Fridge
Upgrade your beverage storage with our Empava beverage and wine fridge featuring an advanced energy-efficient compressor and 2 convection fans for optimal cooling performance. Save on energy costs while enjoying perfectly chilled drinks every time. Ensure that every bottle can keep the same humidity, preventing hot spots, frosting, and uneven cooling.
Dual Zone Temperature Control: Indulge in Luxury with Empava's Beverage and Wine Fridge
Experience the luxury of dual-zone temperature control in our Empava beverage and wine fridge. Keep your beverages and wines at their ideal temperatures simultaneously, ensuring you can serve drinks at their best flavors and aromas.The left zone offers a temperature range of 40-66ºF for wine while the right zone offers a range of 38-50°F for beverages.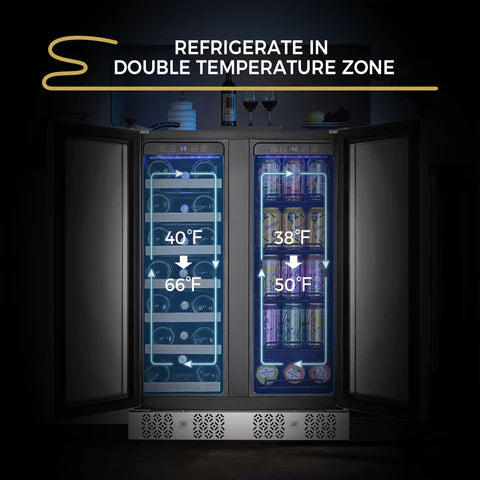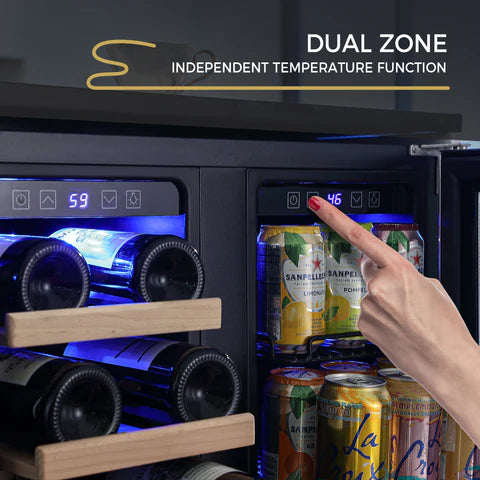 Versatile Storage Solution: Empava's Fridge for All Your Beverage Needs
Our Empava beverage and wine fridge is not just a wine cooler—it's a versatile storage solution for all your beverage needs. With ample space and adjustable shelves, it can accommodate a variety of drinks, from sodas and juices to beer and wine. 5 iron shelves with black painting and 7 elegant, sturdy chrome beeches wood shelves. 4.4 cu. ft. capacity can hold up to 78(12 oz.) beverage cans & 20 wine bottles
Free To Choose Your Way Of Installations
Enjoy the flexibility of both freestanding and built-in installation options with our Empava beverage and wine fridge. Whether you prefer it as a standalone unit or integrated into your kitchen cabinets, it seamlessly fits your space and elevates your decor. It can be left as freestanding or it will fit in a 23.8inch gap underneath your kitchen worktop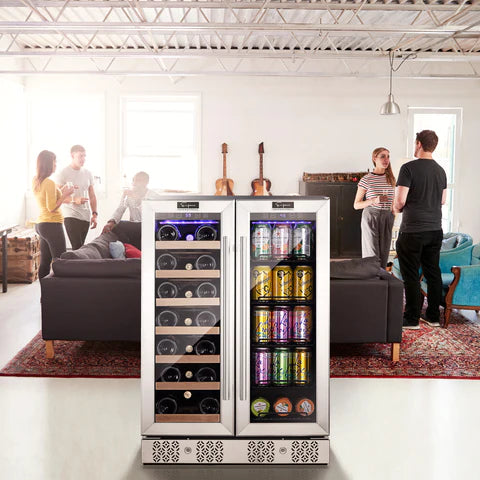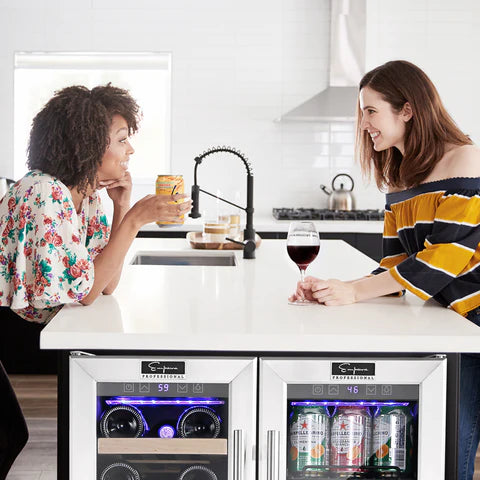 Lasting Quality and Performance: Durable Fridge for Wine Enthusiasts and Beverage Connoisseurs
Crafted with extraordinary construction, reversible door, and stainless-steel front finish, and the tempered, smoked glass is double glazed, internal LED light, our Empava beverage and wine fridge is built to last. The durable materials and precision engineering ensure long-lasting performance and reliability, making it the perfect investment for wine enthusiasts and beverage connoisseurs alike.
| | |
| --- | --- |
| Width | 23.4" |
| Depth | 22.4" |
| High | 33.9" |
| Net Capacity | 123L |
| Net Weight | 107.5lbs |
| Voltage | 110-120V 60Hz |
| Input Power | 110W |
| Energy Consumption | 0.371kWh /24H |
| Climate Class | SN.N. |
| Warranty | 1 Year |
| Wine Storage | 20 Bottles |
| Beverage Storage | 78(12 oz.) Cans |
| Energy Consumption | 0.371kWh /24H |
| Left Zone Temperatures | 40-66ºF |
| Right Zone Temperatures | 38-50°F |
Shipping:
We offer "free ground shipping" for all US orders except: Alaska, Guam, Hawaii and Puerto Rico, where our shipments are not covered. For Canada orders, we charge a shipping fee. For different product categories, we offer different shipping fees because the weight and size are different.
Shipping Method:
(1)Standard / small orders ship out via: USPS, UPS and FedEx.
(2)For large items( pizza oven etc.), multiple items or large orders we use LTL freight.
Shipping Time:
(1)Standard shipping: 5-7 business days For Us orders, 10-15 business days for Canada orders

(2)LTL shipping: 7-14 business days For US orders, 10-15 business days For Canada orders
Once an order has shipped we are unable to change or modify it for any reason. For orders that use the LTL shipping method, if the consignee requests to change the destination, the shipment will return to the shipper and we will issue a refund less the 20% restocking fee. For Canada order, we will deduct 30% of your total refund amount. For a defective return, we will bear the return shipping cost and a full refund will be sent back to your account.

* All LTL orders need to be accepted for delivery within 5 days of the shipping carrier contacting you to set up a delivery date. For any order not accepted within 5 days, refused, or return to the sender a fee of 20% will be assessed. 30% for Canada order.
For all pick up orders, please state in the order that you intend to pick up the order from our warehouses.  All orders must be picked up by the name listed on the order when placed and with a valid identification card. If the order is not picked by the end of 7 days since the order was placed.  We will cancel the order and issue a refund.
Order Processing Time: 1-2 business days for both US and Canada orders
*Business days don't typically include weekends, however Saturday and Sunday deliveries may occur in certain zip codes.
*If you need to request a cancellation or make any changes to your order. Please contact our customer support as soon as possible by telephone at (888-682-8882) or email at (support@kitchenappliancestore.com) Monday - Friday from 9am -5pm PST. Unfortunately once an order has been sent to our warehouse we cannot guarantee cancellation or changes as to we are working quickly to get your order to you.
*Empava Appliances is not responsible for any USPS, UPS, FedEx or LTL delays in delivery.
Returns:
1: If you would like to return an item, please contact our customer support via email at (support@kitchenappliancestore.com) or telephone (888 682-8882) Monday - Friday from 9 am -5 pm PST to request a return within 30 days of delivery for a full refund. When contacting our support team ensure you provide them with your return reason.
2: Returns made without approval will not be accepted as to we have different return addresses for different products.
3: For returns due to buyers remorse (ie: Order by mistake, Does not fit, Change my mind, No longer needed, etc) customers are responsible for the return shipping cost along with a 20% restocking fee applied, 30% for Canada order. You should also save your tracking number to confirm when your item has been received at our location. Items being returned due to defects or quality issues a pre-paid return label will be provided to you upon you providing us with any pictures/videos showing the issue you are encountering.
4: If an item is found to be damaged in shipping. Do not accept or sign for the product. Simply refuse the package with the carrier and contact our customer support asap.
Very nice
Like the appearance and the fact it holds a lot of drinks
Compact and a nice sight to see
Keeps my wine bottles at a right temperature while adding a touch of elegance.
Good Customer Service - great appearance
Impressed with the customer service when I had an issue. Also the product itself looks beautiful
Excellent cost & benefit
So far so good, keeps drinks cool and looks great!
Worth every penny!
My boyfriend LOVES his new beer fridge! Were currently remodeling our kitchen and this was the only part of the whole remodel that he requested. Our contractor built a wall around it and left the back part exposed as the instructions say it needs room to ventilate properly. This way should we have any issues, we can pull the fridge out and access it.
Its very sleek looking and the LED light adds a nice touch. Perfect storage for cans or bottles. It also has a dial on top to adjust the temperature setting which is a great option for those who like almost frozen drinks. We absolutely recommend!!