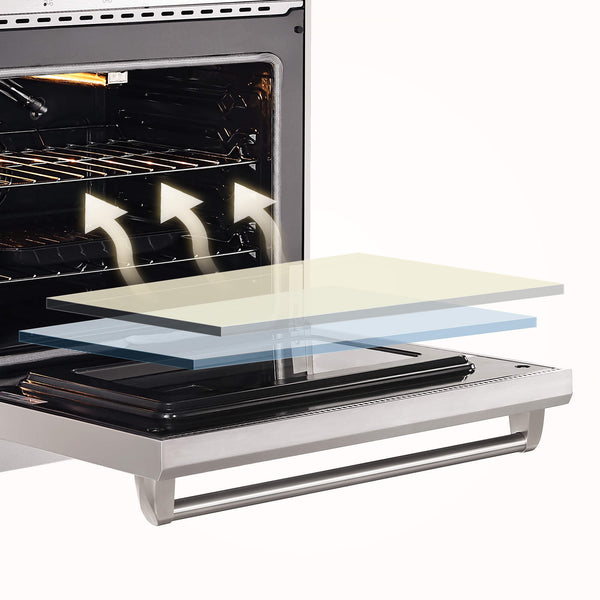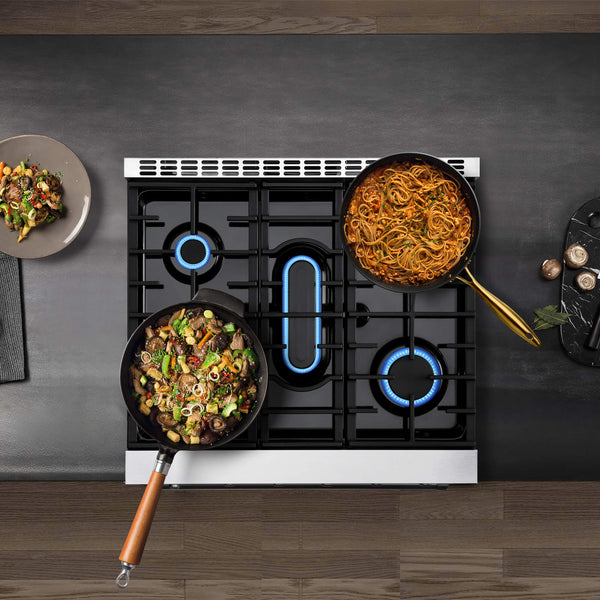 The slide-in gas range offers heavy-duty cast iron grates and 5 versatile burners, a high-intensity 18000-BTU burner, an 8000-BTU burner, and a 6000-BTU burner, a 4000-BTU burner, and an oval 9000-BTU burner that distributes even heat for simmer, boil, stir-frying, steaming, melting, or even caramelizing!

Premium brushed stainless steel combines modern styling with high-performance cooking technology including ergonomic knobs that add to the eye-catching aesthetic of the complete exterior design. Easy-to-clean stain and heat discoloration resistant surface enamel tank, requiring only a quick wipe down at the end of the cycle will provide you with a durable oven for years to come.
The stainless-steel gas range with a black porcelain interior, with a 10000-BTU Broil burner and a 18500-BTU U-Shape burner in the oven, the temperature can be set up from 150°F to 500°F help you to cook perfectly and accurately. It's good for broil, baking, defrosting, dehydration, and preheating.
The commercial-grade gas oven offers an extra-large 4.55 cu. ft. cooking capacity, 2 removable black porcelain oven racks, and 5 adjustable rack positions to accommodate the various sizes of food items. Turn your oven to a Thanksgiving turkey roaster.
The commercial convection fan (push-button control) circulates heated air over, under, and around, delivers the ideal temperature and airflow for fast preheating and uniform cooking helps remove cold spots to ensure even baking. Because the entire oven, including the walls and racks, is heated to the correct temperature.
The slide-in gas range comes with a large oven window and halogen oven lights (push-button control) that allow you to see your food while cooking without opening the door. The triple-layer tempered glass adds to the eye-catching aesthetic of the complete exterior design.