Empava WC08D Dual Zone Wine Cooler 70" Tall Wine Fridge
+ Add To Package
Product Features
Shipping Service
After-sale Service
Dual temperature zone for red and white wine respectively
Unwavering stability in temperature and humidity levels
Reinforced shell and vibration-dampening beech rack
Free Shipping For All
Delivery Within 7–14 Business Days
Pick-up Available
30-day Price Match Guarantee
Add 2 More Years Warranty
30-day Return
Express delivery:

Order in the next
[totalHours] hours %M minutes
to get it between and

Pickup available at 15253 Don Julian Rd
Usually ready in 24 hours
Performance:

Heat-resistant compressor

Automatic defrosting

3-layered glass door
Quick specs:
Height (in): 69.6"
Width (in): 23.4"
Depth (in): 26.8"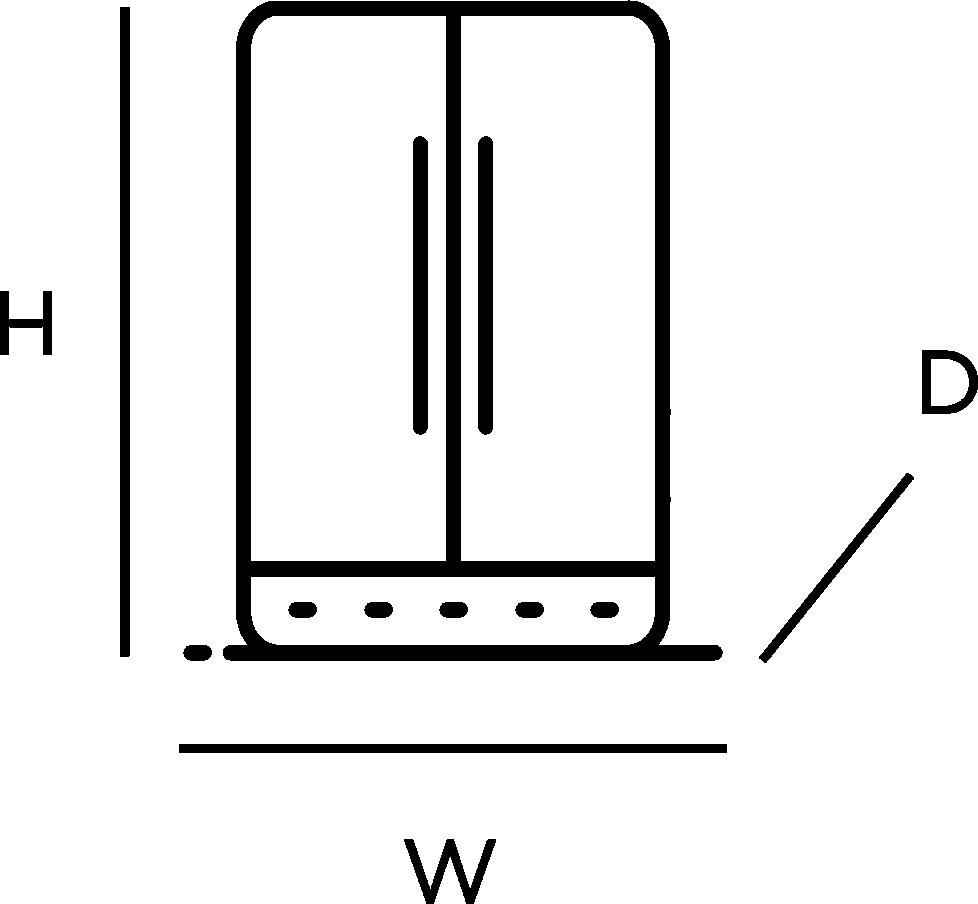 15253 Don Julian Rd City of Industry CA 91745
Pickup available, usually ready in 24 hours
Description
FAQ
Technical Details
Shipping Return Policy
Reviews


Separate dual temperature zone for red and white wine targetedly
This wine fridge allows for targeted storage for red wines at 55~65℉ and white wines at 45~55℉ in two individual zones, ensuring optimal temperatures for bringing out the best flavor of each type. Who wouldn't want their wines always ready?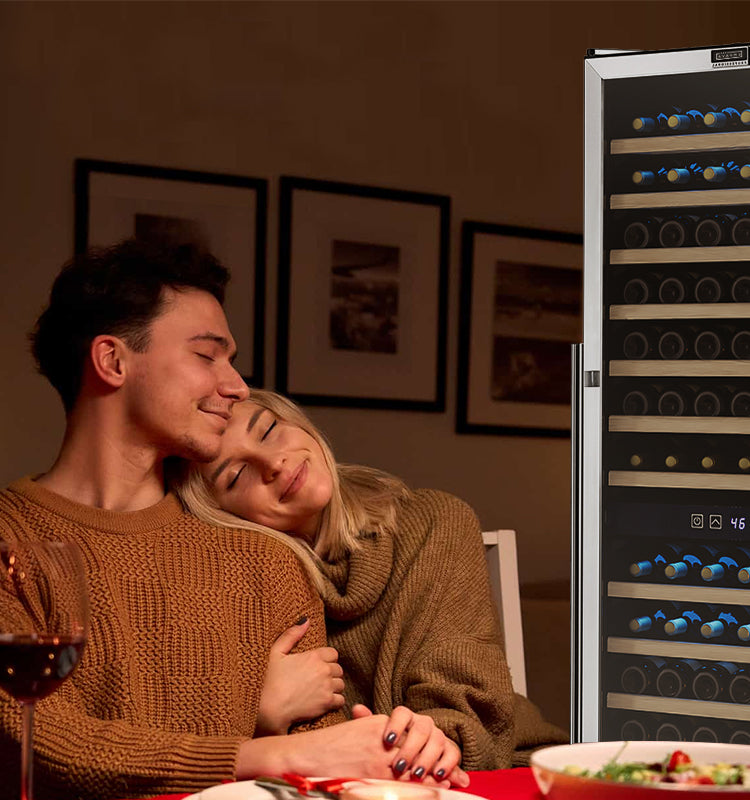 Unwavering stability in temperature and humidity levels
Our heat-resistant compressor motor survives no matter in the kitchen, garage, or balcony, guaranteeing that every inch inside the fridge is filled with unfailing coolness while preserving the cork humidity to prevent wine deterioration from oxygen pass-into.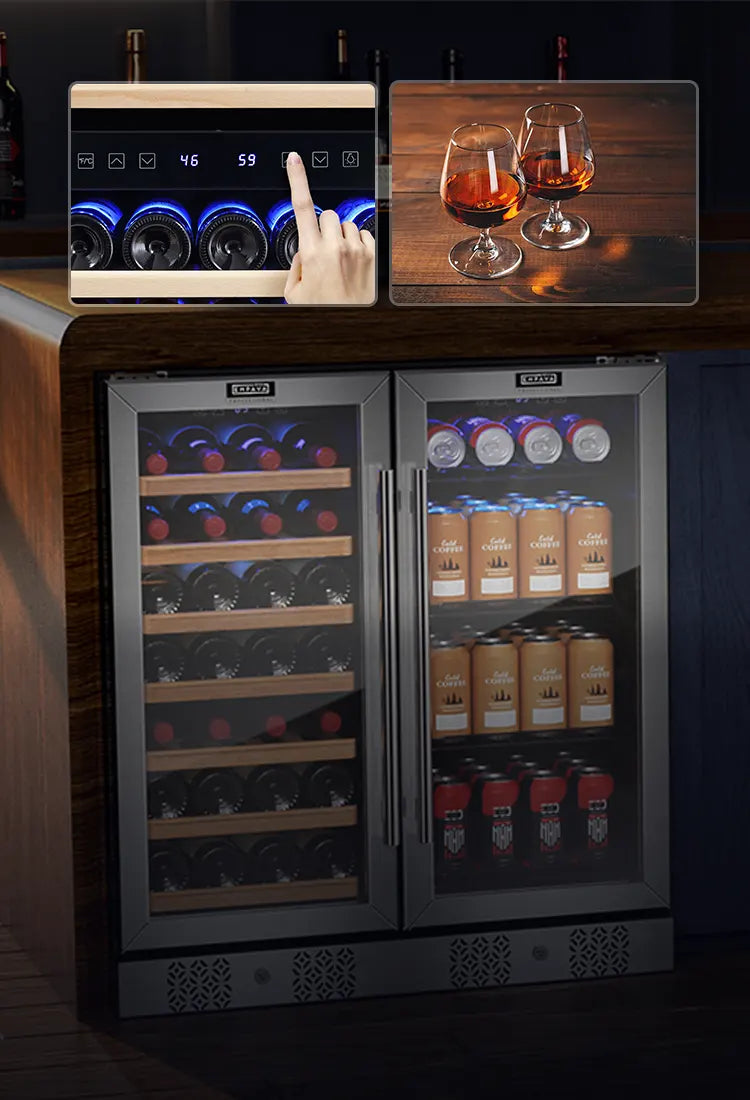 3-dimensional anti-vibration designs safeguard wine integrity
Each drop of the wine experiences minimal disturbance due to the protection of our enhanced base structure, reinforced shells, and natural vibration-dampening beech racks that ensure a stable wine composition capable of satisfying even the most discerning palates.
Frequently Asked Questions
Q:
How long will shipping take?
A:
Normally, it takes 7–14 business days to deliver for US orders and 15 business days for Canadian orders.
Q:
Can the beech rack's position be adjusted?
Q:
Can the Empava dual 70-inch tall wine fridge be kept outdoors?
Check the product specifications, installation details, and more. Any questions, just feel free to reach out to support@kitchenappliancestore.com
Wine just like you like it.
This wine cooler was purchased when I lost my other one in a hurricane it is a much bigger one than I had. The cooler is built to hold 160 bottles of wine and they fit nicely inside, the cabinet has nice lines for the outside, keeps your wine the perfect setting you like your wine. Easy temperature control to change settings.
Quality Service Price meets all three
Product as advertised, excellent value!
Great Drink Fridge
This is a great fridge and fits tons of drinks. Its quick to get to your desired temperature and looks really cool at night with the blue light. Biger than expected.
An excellent wine refrigerator.
It is everything the reviews mentioned. It is very quiet, easy to use and cooled down quickly. The installation size is clear. I'm thankful to have known in advance.
Great Product
Looks great, very quiet, keeps wine at proper temperature. Love it.
Order Confirmation: The customer must provide a valid e-mail address during the checkout process. All orders are subject to verification and approval. All approved orders will be accompanied by an e-mail confirmation from our secure payment server. All shipped orders will be followed by an e-mail confirmation including tracking number(s) and shipping carrier contact information. 
Payment Methods: All major credit and debit cards, including VISA, MasterCard, Discover, and American Express, Google Pay, PayPal etc. We do not accept COD orders. 
Credit Card Orders: Shipping address must be on file and confirmed by the credit card issuer, except for American Express orders, which must be shipped to the billing address only.
Shipping rates & costs
Free Shipping In United States except Alaska/Guam/Hawaii/Puerto Rico
Shipping methods and delivery times
Shipping Method:
(1)Standard / small orders ship out via: USPS, UPS and FedEx.
(2)For large items( bathtub etc.), multiple items or large orders we use LTL freight.
Shipping Time: Standard shipping: 5-7 business days. LTL shipping: 10-14 natural days.
Shipping Types
Empava with proven carriers that offer insurance and tracking, including: UPS, FedEx, and USPS. All shipment times are shown in business days (Monday through Friday, excluding weekends and holidays). Shipping times are subject to each carrier's daily cut-off time, and dependent upon warehouse turnaround.
Freight delivery is reserved for large, heavy, or oversized items, as well as large-quantity shipments. Products are loaded onto a semi-truck and delivered curbside; you will be responsible for moving the item from the curb to the desired location. Shipping times will vary based on destination, extreme weather, and other variables.  
We utilize a variety of LTL carrier options, and as a result, not all deliveries are the same.  To accommodate this, and prepare you for delivery acceptance, you will receive a tracking email with links to instructions for each delivery. 
Types of LTL receipt instructions are listed below
In Person Freight Receipt: The carrier will contact you directly to schedule delivery? If you are not available to receive a scheduled delivery, you may be charged a delivery fee on your original payment method. (Video Instructions)
Contactless Delivery Acceptance: You will be provided a shipping date and tracking for the order, and being home for receipt is optional. If not home at time of delivery, the carrier will document the condition of the package and location it is placed with photos.
In Home Delivery: Products are shipped on a semi-truck and delivered to an agreed upon location inside your home. Shipping times will vary based on destination, extreme weather, and other variables. The carrier will contact you directly to schedule delivery.
Shipping, Delivery, and Cutoff Times
Stated shipping and delivery dates are estimates only and can be affected by several factors, including shipping method. 
Cut-off times indicate when order must be placed to begin processing on a particular day, and vary by carrier.
Please be aware of the product's expected shipment time. This is when the item is expected to leave the warehouse, and will be listed on the product information page.
Shipping Destinations
Free Shipping In United States except Alaska/Guam/Hawaii/Puerto Rico
Shipping & Order Confirmations
You will receive an email order confirmation after your order has been placed, and a second email when your order has been shipped. Tracking numbers will be provided when available.
Load more