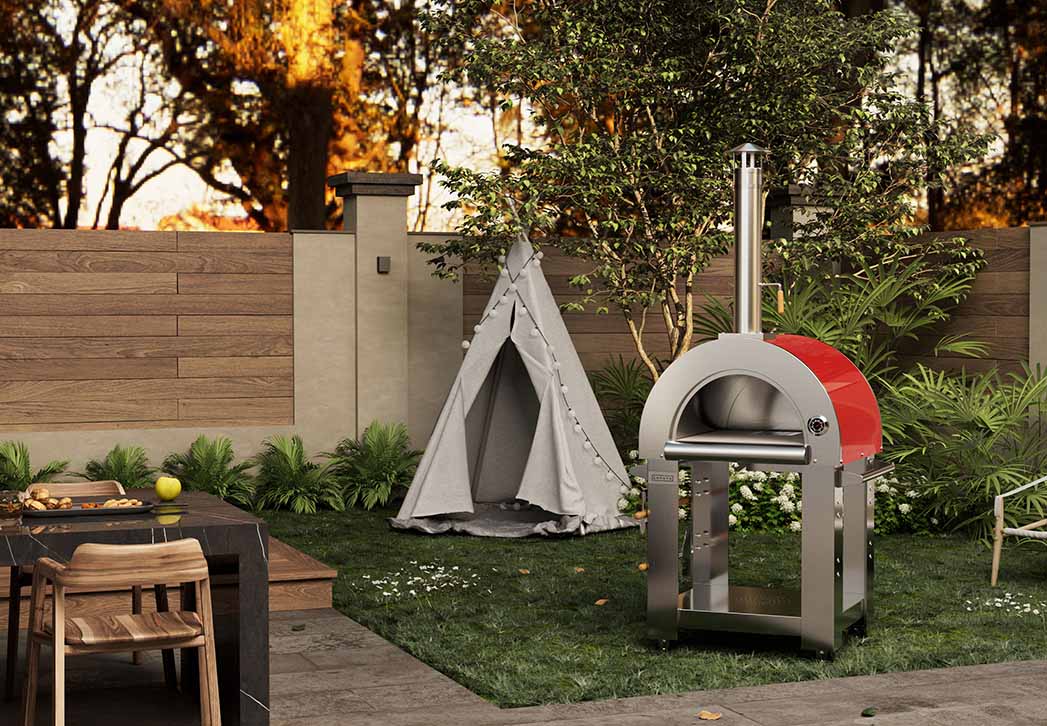 Discover the Magic of Italian outdoor pizza ovens.
Indulge in the authentic essence of Italy with our exquisite Italian Style pizza oven. Crafted to perfection, this culinary masterpiece is the epitome of elegance and functionality.Immerse yourself in the aroma of freshly baked dough as it transforms into a crispy, golden crust, kissed by the flames of tradition.
Bring the taste of Italy to your backyard.
Our oven boasts a remarkable insulation achieved by double-walled durable stainless steel and incorporating fire bricks with a thickness of 0.6 inches. This exceptional insulation allows the oven to pre-heat to a temperature of 800°F in just 5 minutes. This rapid heating is the secret behind achieving a crispy, leopard-spotted exterior and a soft, moist, and elastic interior for your pizzas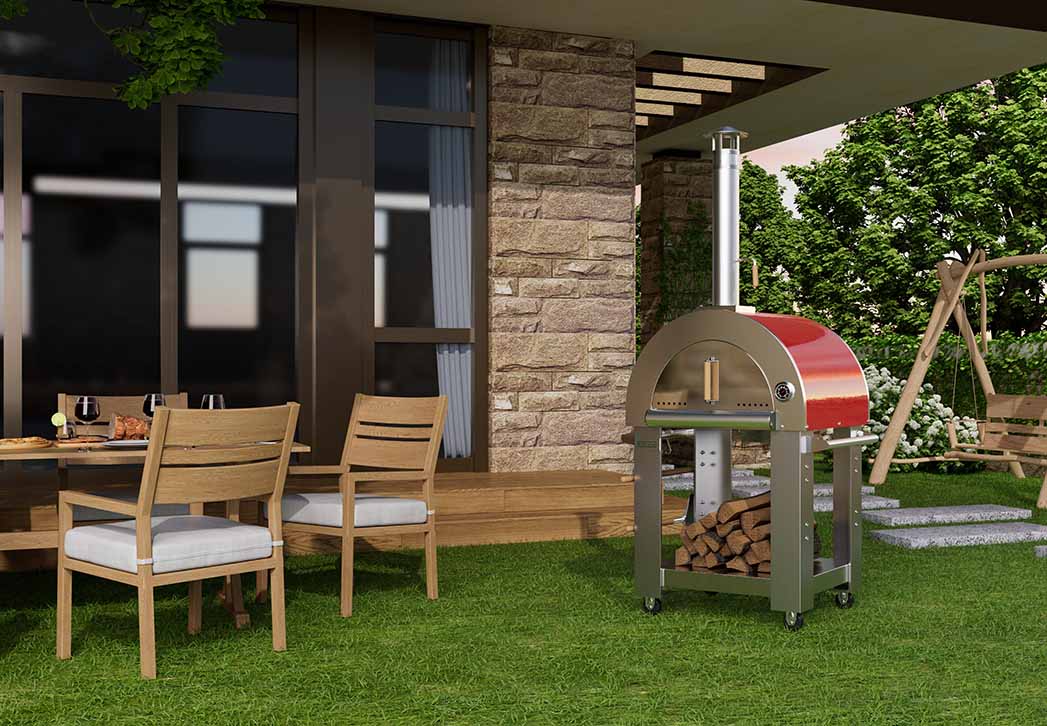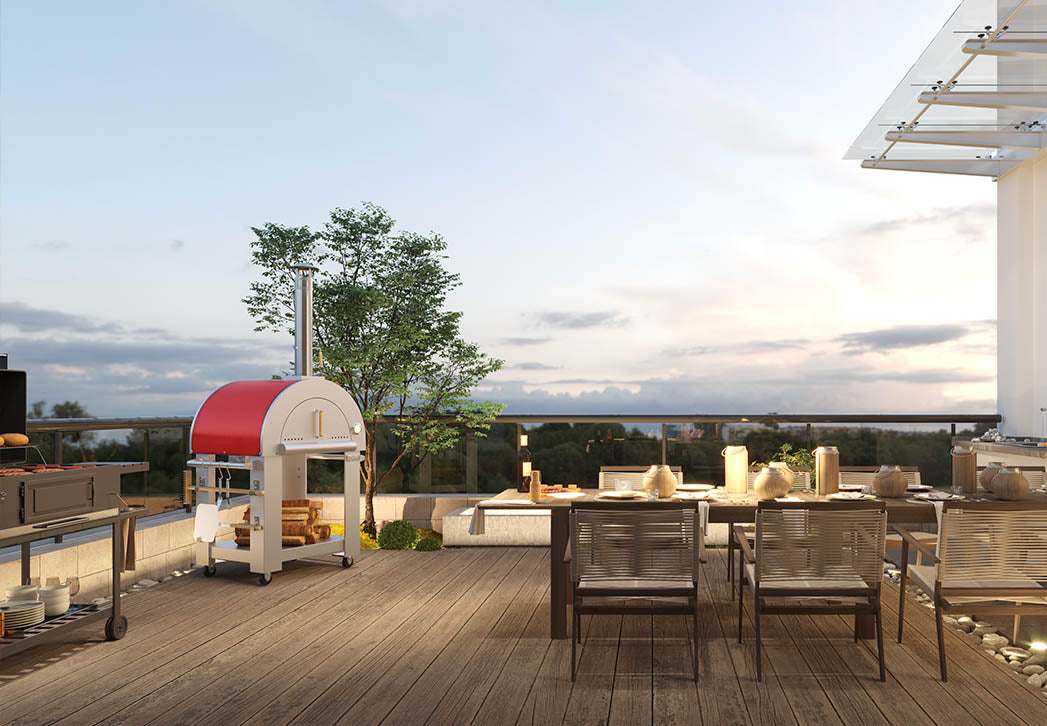 Experience the ultimate outdoor cooking revolution with our state-of-the-art pizza oven.
We understand that size truly matters. That's why we've crafted our masterpiece with a generous 25.1"x29.5" cooking zone, ensuring you have ample space to create mouthwatering delights. Imagine savoring perfectly cooked pizzas up to 24 inches, indulging in delectable casseroles, roasting meats to succulent perfection, and baking fresh bread with ease.
| | |
| --- | --- |
| Warranty | 2 Years |
| Fuel Type | Wood Fuel |
| Cooking Zone | 25.1"x29.5" |
| Pizza Size | ≤16" |
| Heating Time | 5 Minutes |
| Package Net Weight | 62kg |
| Material | Stainless Steel #430 |
| Wooden Frame Size | 35"×35"×27.26"(W*D*H) |
| Product Dimensions | 38.6"×31"×78.8"(W*D*H) |
| Additional Features | Chimney, built-in temperature gauge, drawer, bottom shelf. |
| Accessories | Hook, cutter, scraper, brush, shovel, firebrick, chimney handle, door handle. |
| Package List | 1 x Empava Pizza oven,1 x pizza spatula,1 x pizza cutter,1 x pizza shovel,1 x pizza brush,4 x hooks and 1 x manual. |
Shipping:
We offer "free ground shipping" for all US orders except: Alaska, Guam, Hawaii and Puerto Rico, where our shipments are not covered. For Canada orders, we charge a shipping fee. For different product categories, we offer different shipping fees because the weight and size are different.
Shipping Method:
(1)Standard / small orders ship out via: USPS, UPS and FedEx.
(2)For large items( pizza oven etc.), multiple items or large orders we use LTL freight.
Shipping Time:
(1)Standard shipping: 5-7 business days For Us orders, 10-15 business days for Canada orders

(2)LTL shipping: 7-14 business days For US orders, 10-15 business days For Canada orders
Once an order has shipped we are unable to change or modify it for any reason. For orders that use the LTL shipping method, if the consignee requests to change the destination, the shipment will return to the shipper and we will issue a refund less the 20% restocking fee. For Canada order, we will deduct 30% of your total refund amount. For a defective return, we will bear the return shipping cost and a full refund will be sent back to your account.

* All LTL orders need to be accepted for delivery within 5 days of the shipping carrier contacting you to set up a delivery date. For any order not accepted within 5 days, refused, or return to the sender a fee of 20% will be assessed. 30% for Canada order.
For all pick up orders, please state in the order that you intend to pick up the order from our warehouses.  All orders must be picked up by the name listed on the order when placed and with a valid identification card. If the order is not picked by the end of 7 days since the order was placed.  We will cancel the order and issue a refund.
Order Processing Time: 1-2 business days for both US and Canada orders
*Business days don't typically include weekends, however Saturday and Sunday deliveries may occur in certain zip codes.
*If you need to request a cancellation or make any changes to your order. Please contact our customer support as soon as possible by telephone at (888-682-8882) or email at (support@kitchenappliancestore.com) Monday - Friday from 9am -5pm PST. Unfortunately once an order has been sent to our warehouse we cannot guarantee cancellation or changes as to we are working quickly to get your order to you.
*Empava Appliances is not responsible for any USPS, UPS, FedEx or LTL delays in delivery.
Returns:
1: If you would like to return an item, please contact our customer support via email at (support@kitchenappliancestore.com) or telephone (888 682-8882) Monday - Friday from 9 am -5 pm PST to request a return within 30 days of delivery for a full refund. When contacting our support team ensure you provide them with your return reason.
2: Returns made without approval will not be accepted as to we have different return addresses for different products.
3: For returns due to buyers remorse (ie: Order by mistake, Does not fit, Change my mind, No longer needed, etc) customers are responsible for the return shipping cost along with a 20% restocking fee applied, 30% for Canada order. You should also save your tracking number to confirm when your item has been received at our location. Items being returned due to defects or quality issues a pre-paid return label will be provided to you upon you providing us with any pictures/videos showing the issue you are encountering.
4: If an item is found to be damaged in shipping. Do not accept or sign for the product. Simply refuse the package with the carrier and contact our customer support asap.