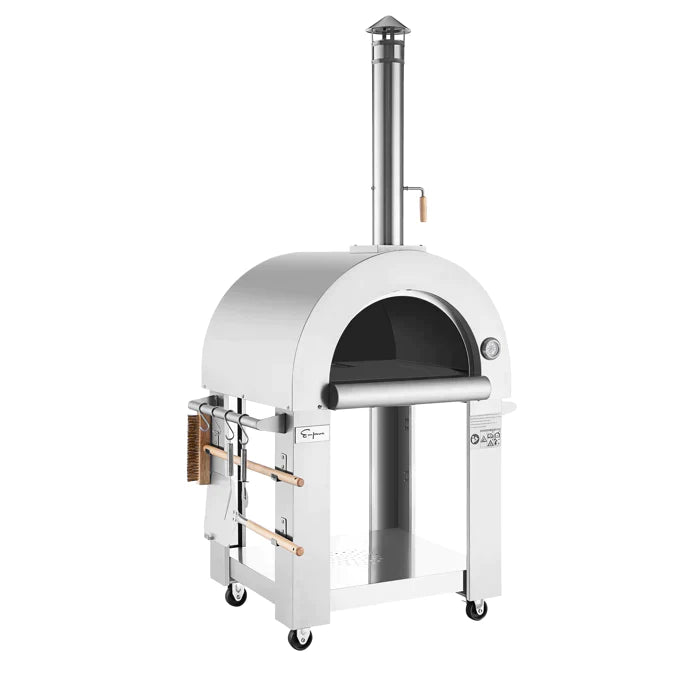 The Most Energy-Efferent Way Of Outdoor Cooking
The design of this outdoor pizza oven is to make sure a relatively small amount of wood reaches and maintains a high cooking temperature. A heavily insulated oven shell and firebricks are made to maximize heat retention in the oven.
Material Made For Durability
The whole part of the pizza oven is made of stainless steel for a long time of use about 10-25 years. Daily maintenance is a necessity for a long use like covering it when not in use. It possesses high strength and hardness, making it resistant to mechanical wear and tear. Excellent heat resistance also makes it best for cooking pizza.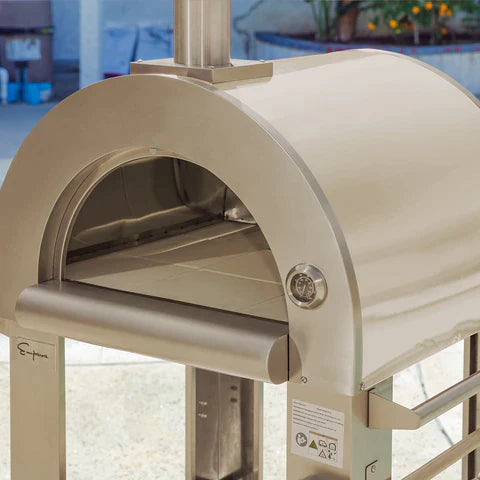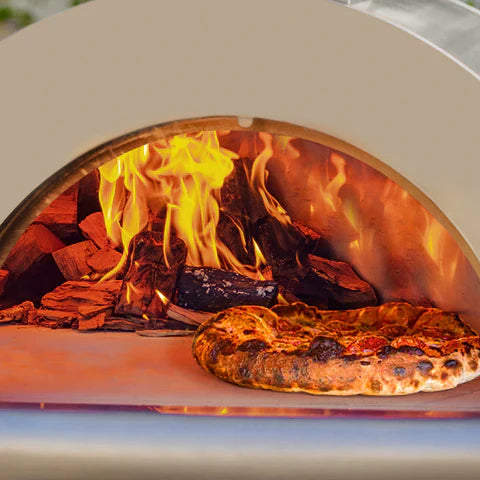 Build In Temperature Gauge
By having a temperature gauge, you can ensure that the pizza oven is heated to the optimal temperature for baking pizzas, resulting in consistent and perfectly cooked pizzas. You can monitor the oven's temperature and make necessary adjustments to maintain the desired heat level. This helps ensure that each pizza is cooked evenly and avoids undercooking or burning.
Smoky, Aromatic Flavor Pizza In Seconds
A bite of fresh flame-cooked hot pizza just wipes out all your upset, just enjoy great pleasure by DIY pizza oven and BBQ with friends and family. That is the meaning of spending leisure time. With a 25.1"x29.5" cooking zone, it can cook pizza size ≤16", casseroles, vegetables bake bread, and even roast meats.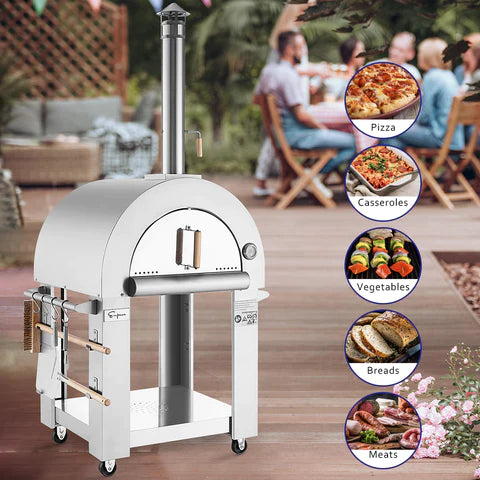 Warranty
2 Years
Fuel Type
Wood Fuel
Cooking Zone

25.1"x29.5"

Pizza Size
≤16"
Heating Time
5 Minutes
Material
Stainless Steel #430
Package Net Weight

62kg

Product Dimensions
38.6"X31"X78.8"(W*D*H)
Carton Size
39.1

X

35.8

X

25.2"
Additional Features
Movable wheels, chimney, built-in temperature gauge
Accessories
Hook, cutter,scraper, brush,
shovel, firebrick
Package List
1 x Empava Pizza oven,1 x pizza spatula,1 x pizza cutter,1 x pizza shovel,1 x pizza brush,4 x Hooks,and 1 x manual.
Shipping:
We offer "free ground shipping" for all US orders except: Alaska, Guam, Hawaii and Puerto Rico, where our shipments are not covered. For Canada orders, we charge a shipping fee. For different product categories, we offer different shipping fees because the weight and size are different.
Shipping Method:
(1)Standard / small orders ship out via: USPS, UPS and FedEx.
(2)For large items( pizza oven etc.), multiple items or large orders we use LTL freight.
Shipping Time:
(1)Standard shipping: 5-7 business days For Us orders, 10-15 business days for Canada orders

(2)LTL shipping: 7-14 business days For US orders, 10-15 business days For Canada orders
Once an order has shipped we are unable to change or modify it for any reason. For orders that use the LTL shipping method, if the consignee requests to change the destination, the shipment will return to the shipper and we will issue a refund less the 20% restocking fee. For Canada order, we will deduct 30% of your total refund amount. For a defective return, we will bear the return shipping cost and a full refund will be sent back to your account.

* All LTL orders need to be accepted for delivery within 5 days of the shipping carrier contacting you to set up a delivery date. For any order not accepted within 5 days, refused, or return to the sender a fee of 20% will be assessed. 30% for Canada order.
For all pick up orders, please state in the order that you intend to pick up the order from our warehouses.  All orders must be picked up by the name listed on the order when placed and with a valid identification card. If the order is not picked by the end of 7 days since the order was placed.  We will cancel the order and issue a refund.
Order Processing Time: 1-2 business days for both US and Canada orders
*Business days don't typically include weekends, however Saturday and Sunday deliveries may occur in certain zip codes.
*If you need to request a cancellation or make any changes to your order. Please contact our customer support as soon as possible by telephone at (888-682-8882) or email at (support@kitchenappliancestore.com) Monday - Friday from 9am -5pm PST. Unfortunately once an order has been sent to our warehouse we cannot guarantee cancellation or changes as to we are working quickly to get your order to you.
*Empava Appliances is not responsible for any USPS, UPS, FedEx or LTL delays in delivery.
Returns:
1: If you would like to return an item, please contact our customer support via email at (support@kitchenappliancestore.com) or telephone (888 682-8882) Monday - Friday from 9 am -5 pm PST to request a return within 30 days of delivery for a full refund. When contacting our support team ensure you provide them with your return reason.
2: Returns made without approval will not be accepted as to we have different return addresses for different products.
3: For returns due to buyers remorse (ie: Order by mistake, Does not fit, Change my mind, No longer needed, etc) customers are responsible for the return shipping cost along with a 20% restocking fee applied, 30% for Canada order. You should also save your tracking number to confirm when your item has been received at our location. Items being returned due to defects or quality issues a pre-paid return label will be provided to you upon you providing us with any pictures/videos showing the issue you are encountering.
4: If an item is found to be damaged in shipping. Do not accept or sign for the product. Simply refuse the package with the carrier and contact our customer support asap.
Beyond pizza
Use the wide oven opening and spacious cooking surface to cook a range of roast meats, fresh bread and more!
Great pizza oven
I had built an authentic wood-fired brick oven in my backyard and love making pizza for the family and neighbors. The only problem is if I just wanted one or two pizzas the large wood oven is too much work. This empava oven is perfect for one or 6 pizzas. It took some practice to get it right, I found 650-700 deg F was the best temperature to recreate. Great little oven large wood oven pizza.
I highly recommend this oven
First time using EMPV-PG01 Pizza Oven
Today made two large Pizzas' in my new oven and everything was great. It took approx. 8 minutes to reach 500 degrees and I maintained the temp around 650 degrees to bake the pizzas. If you keep the temp down the dough will have a better chance of cooking all the way through without burning the crust. The Empava PG01 was a great buy and I know we will enjoy it for many years. I looked at the Italy made ovens but I could not find any reason to spend the extra $1,000 and now I am happy I did not. This oven is build well and the heat seems to cover the entire oven which will cook everything evenly.
Hi. Thank you for this wonderful review! We are thrilled to hear that your Empava PG01 oven exceeded your expectations. It sounds like you were able to successfully make delicious pizzas with your new appliance, and we're happy to hear that the oven heated up quickly and maintained the temperature well.
Thank you for choosing Empava, and we look forward to providing you with exceptional products and service for years to come.
Best,
Empava
Love love my new Pizza oven !
We love our new pizza oven . It was super easy to set up and the oven reaches the 900 degree mark in about 10 minutes which is so much faster than others and maintains heat with very little wood! Pizzas cook quickly ! All the tools that come with the oven work well.
The only reason I am not giving 5 stars is that one of the fire bricks cracked the 2nd time we used it .
Dear Laura,
Thank you for your positive and informative review! We're glad to hear that you're enjoying your new pizza oven and it's performing well, just as we intended it to. It's always great to receive such feedback from our customers.
We sincerely apologize for the inconvenience caused by the cracked fire brick. We understand that it would have affected your overall experience and we regret that we have let you down this time. However, we're committed to making it right and ensuring that our customers are 100% satisfied with their purchase.
We offer a warranty on our products for situations like this, and we would be happy to arrange to have a replacement fire brick sent to you at no cost. Please do send us some pictures of the broken firebrick and we'll take care of it right away.
Thank you again for your support and for choosing our pizza oven. We appreciate the feedback and hope that you continue to enjoy using the oven for many years to come.
Best regards,
Empava
Pretty good performance, great value
The oven was easy to assemble as advertised and looks very nice. For the money it is a great buy. It does not retain heat as well as I expected so far, but given the large front opening, and still figuring out the best way to regulate temperature I hope to see this improve. Also this seems to affect the ability of the pizza stones to retain heat. I may try some different stones aside from those that came with it to see if there is a difference. But, all in all, a good first wood burning pizza oven to have in the backyard.
Hi Greg. Thanks for sharing your positive review of Pizza Oven PG01. Please know that we value your feedback, it gives us the motivation to continue developing our appliances. We are passing your opinion along to our quality teams as we seek to continuously improve. If you have any further needs or questions, please reach out! We look forward to speaking to you -Empava Customer Service Team.