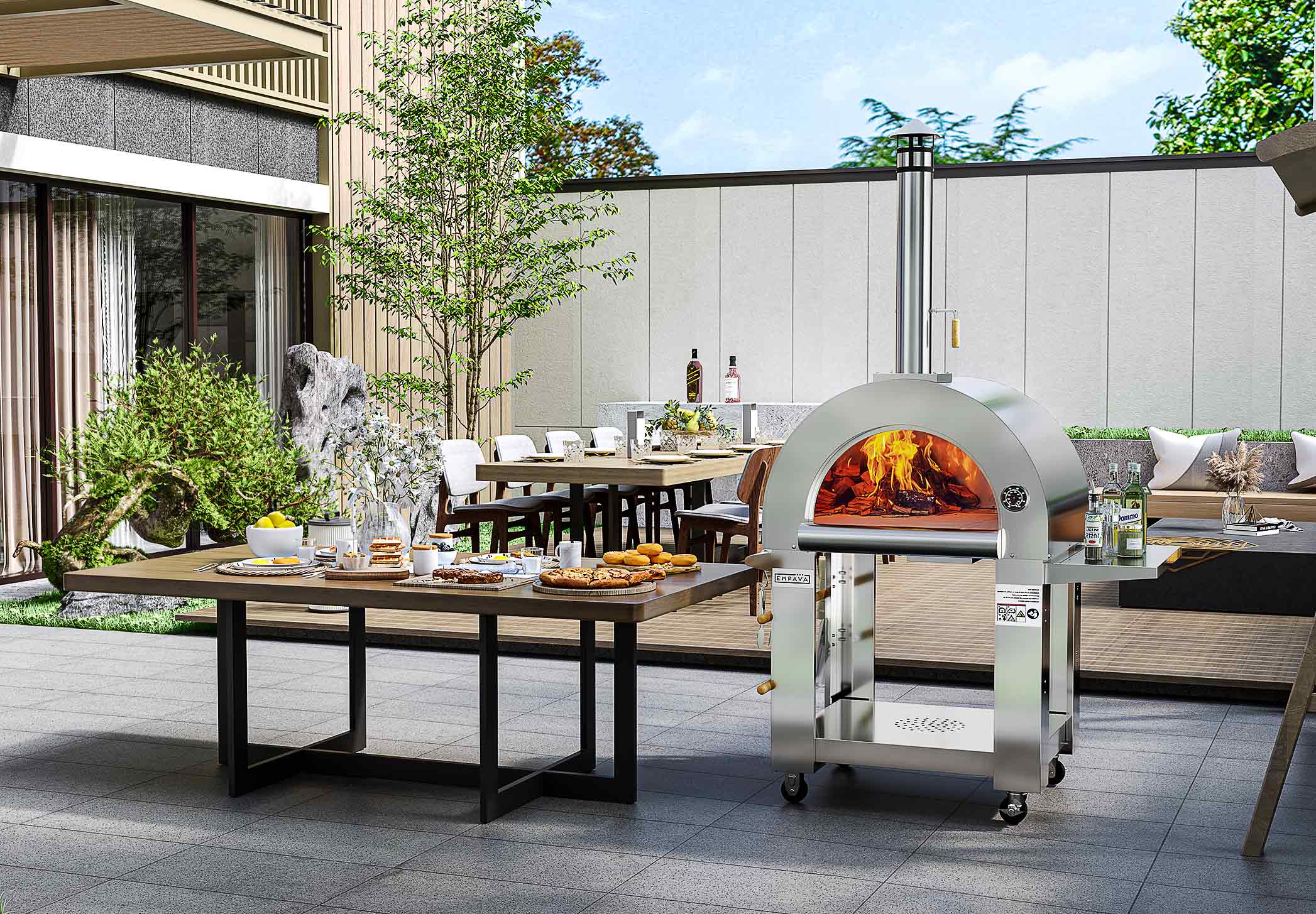 Fuel your passion for cooking outdoor

Embrace the essence of size with our remarkable cooking zoom measuring 25.1"x29.5", perfect for crafting mouthwatering pizzas up to 24" in diameter. But that's not all - unlock a world of culinary possibilities as you explore the realm of casseroles, baked vegetables, artisan bread, and succulent roasted meats.
An extra layer of convenience, organization, and elegance to your al fresco dining adventures

The versatile and stylish side-table designed to enhance your outdoor culinary experience. Crafted with utmost attention to detail, this exceptional side-table seamlessly combines functionality with a touch of sophistication. Its spacious and sturdy surface provides ample space for all your pizza-making essentials, from rolling out dough to arranging toppings.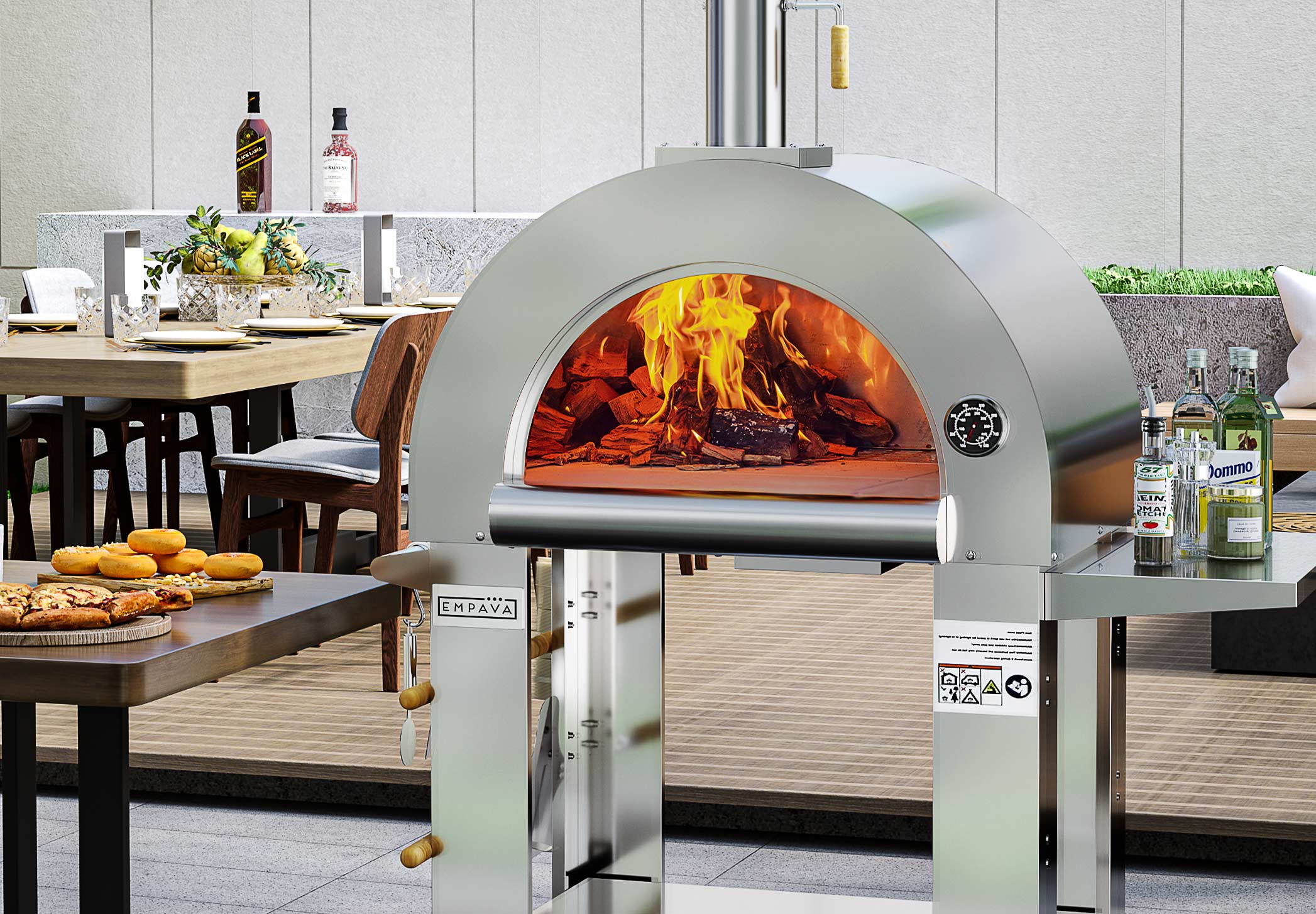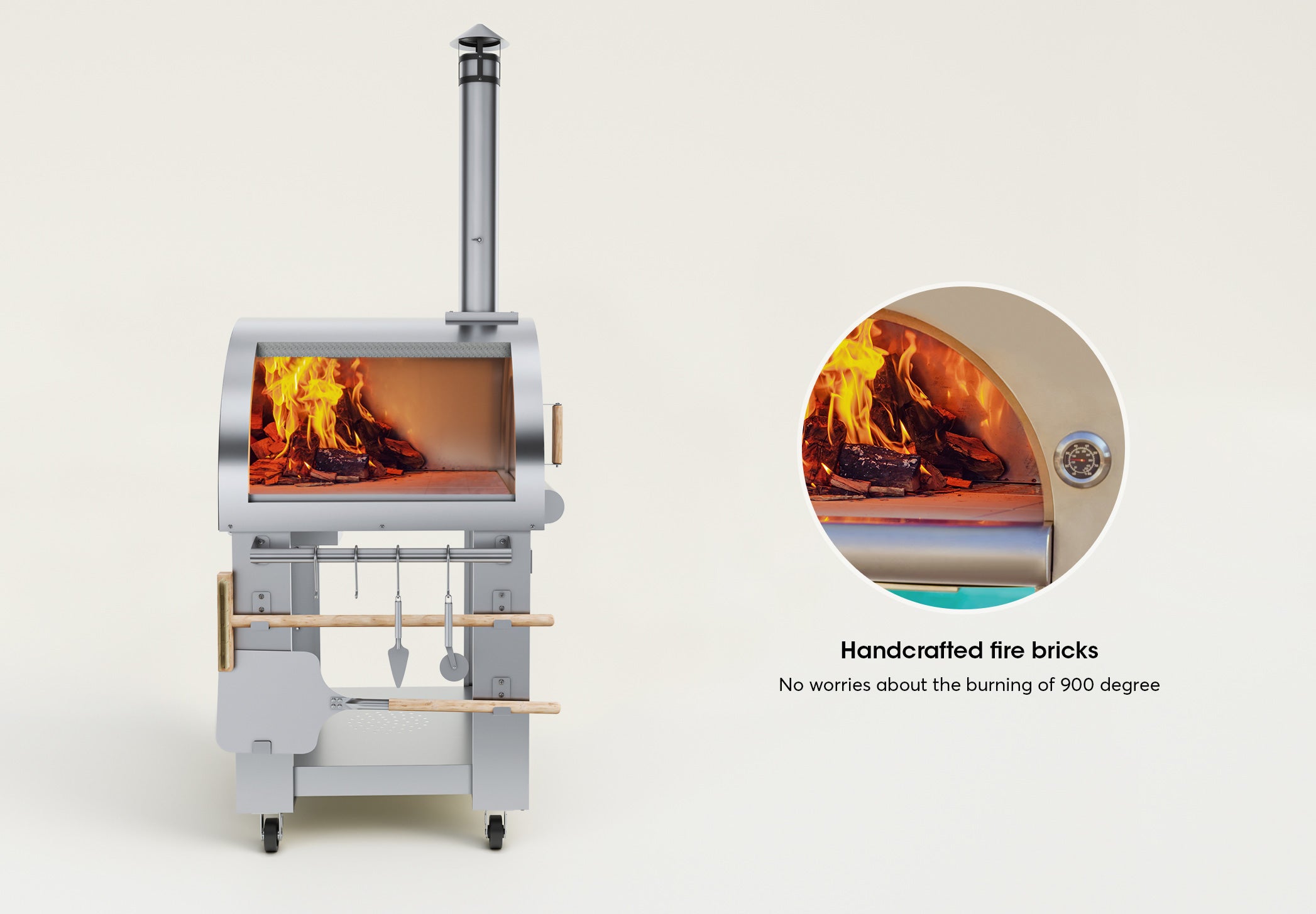 Discover the ultimate secret to achieving the most mouthwatering, authentic pizza

A marvelously insulated oven. Immerse yourself in a world of culinary excellence as you witness its remarkable 0.6" thickness fire bricks, paving the way for unparalleled insulation and a lightning-fast pre-heating time of just 5 minutes to reach a scorching 800°F. The result? A tantalizingly crisp, leopard-spotted exterior, coupled with a pillowy, moist, and delightfully stretchy interior.
| | | | | | |
| --- | --- | --- | --- | --- | --- |
| Warranty | Fuel Type | Cooking Zone | Pizza Size | Unboxed Size | Carton Size |
| 2 Years | Wood Fuel | 0.50㎡(26"×29.8") | 12"/16"/20"/24" | 46.3"*32.3"*79.8"(W*D*H) | 35.8*35*29.52" |
| Heating Time |  Package Net Weight | Material | Additional Features | Accessories | Package List |
| 5 minutes | 64kg | Stainless Steel #430 | Chimney, built-in temperature gauge, the side table | Hook, cutter, scraper, brush, shovel,15mm-thick cordierite firebrick, chimney handle, door handle | 1 x Empava pizza oven,1 x pizza spatula,1 x pizza cutter,1 x pizza shovel,1 x pizza brush,4 x hooks, and 1 x manual. |
Shipping:
We offer "free ground shipping" for all US orders except: Alaska, Guam, Hawaii and Puerto Rico.
Shipping Method:
(1)Standard / small orders ship out via: USPS, UPS and FedEx.
(2)For large items( pizza oven etc.), multiple items or large orders we use LTL freight.
Shipping Time: Standard shipping: 5-7 business days. LTL shipping: 10-14 natural days.
Once an order has shipped we are unable to change or modify it for any reason. For orders that use the LTL shipping method, if the consignee requests to change the destination, the shipment will return to the shipper and we will issue a refund less the 20% restocking fee.

* All LTL orders need to be accepted for delivery within 5 days of the shipping carrier contacting you to set up a delivery date. For any order not accepted within 5 days, refused, or return to the sender a fee of 20% will be assessed.
For all pick up orders, please state in the order that you intend to pick up the order from our warehouses.  All orders must be picked up by the name listed on the order when placed and with a valid identification card. If the order is not picked by the end of 7 days since the order was placed.  We will cancel the order and issue a refund.
Order Processing Time: 1-2 business days.
*Business days don't typically include weekends, however Saturday and Sunday deliveries may occur in certain zip codes.
*If you need to request a cancellation or make any changes to your order. Please contact our customer support as soon as possible by telephone at (888-682-8882) or email at (support@kitchenappliancestore.com) Monday - Friday from 9am -5pm PST. Unfortunately once an order has been sent to our warehouse we cannot guarantee cancellation or changes as to we are working quickly to get your order to you.
*Empava Appliances is not responsible for any USPS, UPS, FedEx or LTL delays in delivery.
Returns:
1: If you would like to return an item, please contact our customer support via email at (support@kitchenappliancestore.com) or telephone (888 682-8882) Monday - Friday from 9 am -5 pm PST to request a return within 30 days of delivery for a full refund. When contacting our support team ensure you provide them with your return reason.
2: Returns made without approval will not be accepted as to we have different return addresses for different products.
3: For returns due to buyers remorse (ie: Order by mistake, Does not fit, Change my mind, No longer needed, etc) customers are responsible for the return shipping cost along with a 20% restocking fee applied. You should also save your tracking number to confirm when your item has been received at our location. Items being returned due to defects or quality issues a pre-paid return label will be provided to you upon you providing us with any pictures/videos showing the issue you are encountering.
4: If an item is found to be damaged in shipping. Do not accept or sign for the product. Simply refuse the package with the carrier and contact our customer support asap.
Best form factor and performance of the portable ovens!
This little oven has revolutionized my pizza-making! I was producing really great pizza with baking steel in my electric oven, but with the Empava Pizza Oven, I now produce a better-looking pizza and better tasting! Even used it for a catering gig and it performed flawlessly to make 41 pizzas!
I adapted quickly to the high heat baking style by using dough with 71% hydration and paying close attention to the pizza while it cooked. The only thing I wish I had was a turning peel- just haven't bought one yet but i think it would improve my pizzas by letting them bake properly instead of removing the pizza to turn it.
Very easy to use. Fire it up, wait a few, and start cooking.
This thing is great. We purchased it a couple of weeks ago and have used it more than we expected.
There is a small learning curve though.
On my first attempt, the pizza dough stuck to the peel and then the toppings rolled off into the oven. Complete user error on my part. Since then I make sure my pizza dough and peel have some flour on the outside so it slides right off.
(The picture with this review was my 5th pizza made)
The pizza dough recipes on the website are fantastic. They taste as good as the gourmet pizza places.
It isn't just for pizza. Easy to use. Great for parties. It gets easier the more you use it. Minimal cleaning. Versatile. Efficient.
I would buy it again.
The pizza will be awesome
I've made pizza for years using an indoor pizza oven, but always felt the pizza was just not quite there. Bought this as a couple of friends had said they loved theirs.
I used lumpwood charcoal and oak hardwood. My infrared thermometer was peaking at 750H.
The pizza went in (no tray) and 180 seconds later was ready. I turned it halfway through as the flame is at one end and will burn the pizza there if you make it on the large side.
Best pizza I've made!!!
Pizza Dream at home!
Arrived 2 days earlier!!! Great surprise. Easy to assemble. Great packaging and easy to register for 2 years warranty. Pizza dough is levitating and tonite we will rock this beauty!
Makes good pizzas
Makes good pizzas just get them thin,don't over load them and give the base time to get hot between pizzas. Uses very little fuel and makes great tasting wood fired pizzas