60 Rpm Slow Masticating and Grinding: Empava slow masticating juicer adopted full copper DC motor, 90% More Nutrition Growth, without creating too much heat and friction. Reserve the vitamins, enzymes, minerals, trace minerals, and nutrients.
Juice & Pulp Separation Function: Perfectly separates the pomace from the juice, and extracts the nutrients with less oxidation. 1L juicer cup & 1L pulp cup can serve your daily demand.
Small Caliber Juicer: Empava juicer with a small feeder chute allows you can remove the seeds when you cut the fruit to reduce the bitter taste, it can make the juice tastes better.
Baby Health and Silent: Extracts less than 60 decibels. BPA-Free material, easy to assemble, operate, and clean. All detachable parts are easy to clean with the provided cleaning brush or could be safely cleaned in the dishwasher. A heavy-duty and stable body that lets you enjoy a quiet life.
Safe & Secure: All components of the Empava slow juicer are BPA-free in order to ensure the finest juice every time. The Reverse Function spins in the opposite direction to release food ingredients to reduce clogging and help when cleaning. The two-safety system makes Empava juicer can prevent you from being injured during juicing, the filter is made of food-grade 304SS, enabling it to make healthy juice that the whole family will love.
Material & Dimensions: 9.84 in. L x 7.09 in. W x 17.91 in. H, Net Weight: 11.02LBS. Compact design does not occupy much kitchen space and makes it is easy to move and use. Non-slip silicone feet make it stable and do not scratch the desktop, the silver finish design offers an attractive look, 1.2m UL Plug.
Warranty: The ETL Certified slow juicer designed and engineered in the USA by Empava Appliances with a 2 Years Warranty.
Description:
Crafting a wide range of fresh, healthy, homemade juice beverages is easy with the Empava Slow Juicer. Engineered to powerfully press and crush fruits and vegetables for maximum juice extraction, this kitchen essential is a must for wellness-minded home chefs. The masticating auger produces less heat to retain the full flavor and nutrients of the food. The auger ensures every bit of juice is extracted, while the pulp is ejected into its own pitcher. Add variety and quickly yet thoroughly extract the essence of nuts, wheat grasses, sprouts, and more. This ultra-versatile unit lets you create an endless array of nutritious and delicious beverage options, from pressed juices to alternative milk to refreshing tonics and spritzers. The mesh-free filter is easily cleaned under the tap, and the powerful motor operates with quiet efficiency.
You may also like 150W Cold Press Slow Juicer - EMPV-BLDR01 and 150W Cold Press Slow Juicer - EMPV-BLDR02
Cold Press Juicer completely separates fruit juice from the pulp. Pure fruit juice and fibers are obtained respectively. With different accessories, pure vegetable juice, smoothies, and sorbets can be made.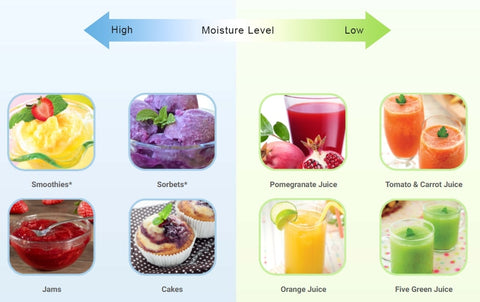 Contrast Between Centrifugal & Cold Press Juicer
The innovative cold press technology effectively delays oxidation, preserving the original flavor and vivid color of fruit juice. Abundant nutrients are also retained.

Higher Yield
Lasts Longer
Quiet Motor
Motor Warranty

You get more juice for every piece of fruit, vegetable, and nut.

Our juices taste fresh and last for up to 72 hours.

It's not loud like cheaper juicers or blenders.

Our long-lasting AC motor comes with a warranty.

Easy to Clean
Safe & 100% BPA Free
Taste & Pulp Control
Versatile

Simple assembly and very easy to clean after use.

No sharp parts and made with 100% BPA-free components.

Comes with strainers and a control lever so you can customize your juice.

Makes sweet & savory 

juices

 out of fruits, veggies, nuts, herbs, and seeds.
Shipping:
We offer "free ground shipping" for all US orders except: Alaska, Guam, Hawaii and Puerto Rico, where our shipments are not covered. For Canada orders, we charge a shipping fee. For different product categories, we offer different shipping fees because the weight and size are different.
Shipping Method:
(1)Standard / small orders ship out via: USPS, UPS and FedEx.
(2)For large items( pizza oven etc.), multiple items or large orders we use LTL freight.
Shipping Time:
(1)Standard shipping: 5-7 business days For Us orders, 10-15 business days for Canada orders

(2)LTL shipping: 7-14 business days For US orders, 10-15 business days For Canada orders
Once an order has shipped we are unable to change or modify it for any reason. For orders that use the LTL shipping method, if the consignee requests to change the destination, the shipment will return to the shipper and we will issue a refund less the 20% restocking fee. For Canada order, we will deduct 30% of your total refund amount. For a defective return, we will bear the return shipping cost and a full refund will be sent back to your account.

* All LTL orders need to be accepted for delivery within 5 days of the shipping carrier contacting you to set up a delivery date. For any order not accepted within 5 days, refused, or return to the sender a fee of 20% will be assessed. 30% for Canada order.
For all pick up orders, please state in the order that you intend to pick up the order from our warehouses.  All orders must be picked up by the name listed on the order when placed and with a valid identification card. If the order is not picked by the end of 7 days since the order was placed.  We will cancel the order and issue a refund.
Order Processing Time: 1-2 business days for both US and Canada orders
*Business days don't typically include weekends, however Saturday and Sunday deliveries may occur in certain zip codes.
*If you need to request a cancellation or make any changes to your order. Please contact our customer support as soon as possible by telephone at (888-682-8882) or email at (support@kitchenappliancestore.com) Monday - Friday from 9am -5pm PST. Unfortunately once an order has been sent to our warehouse we cannot guarantee cancellation or changes as to we are working quickly to get your order to you.
*Empava Appliances is not responsible for any USPS, UPS, FedEx or LTL delays in delivery.
Returns:
1: If you would like to return an item, please contact our customer support via email at (support@kitchenappliancestore.com) or telephone (888 682-8882) Monday - Friday from 9 am -5 pm PST to request a return within 30 days of delivery for a full refund. When contacting our support team ensure you provide them with your return reason.
2: Returns made without approval will not be accepted as to we have different return addresses for different products.
3: For returns due to buyers remorse (ie: Order by mistake, Does not fit, Change my mind, No longer needed, etc) customers are responsible for the return shipping cost along with a 20% restocking fee applied, 30% for Canada order. You should also save your tracking number to confirm when your item has been received at our location. Items being returned due to defects or quality issues a pre-paid return label will be provided to you upon you providing us with any pictures/videos showing the issue you are encountering.
4: If an item is found to be damaged in shipping. Do not accept or sign for the product. Simply refuse the package with the carrier and contact our customer support asap.
Awesome juicer for the price - highly recommend
LOVE this juicer, so mad at myself for not purchasing one sooner. I have been making celery juice and before I had gotten a juicer it took me about an hour to manually make the juice which wasn't too bad compared to the first couple of times (it was a 2 hour process). Now with this juicer, if the celery is cleaned and I cut off the ends, I can juice 3 bunches of celery in about 5 minutes or so. Now with prep time, juicing, and cleaning the machine it is about a 30-minute process. I wish i would've purchased this juicer a year ago. I have also juiced full apples cut in 1/2 and watermelon, it is so good and the clean-up is a breeze. One hack I found on YouTube to make the cleanup even faster is to line the basket that catches the leftover substance with a plastic storage bag and then you simply take the bag out when completed and rinse the basket. I haven't tried any other juicers, but happened to find this one and read the reviews about it. So glad I did and the price was much cheaper compared to other juicers. Highly recommend this juicer. I keep this one at our cabin and I may be purchasing a second one for our home. I love this thing, I also have been searching recipes on youtube.
Love this thing!
I literally juice every other day. I was on the fence about juicing for years because the machines are so expensive and I wasn't sure if they'd be worth it. This juicer is definitely worth it!! It's super easy to use and even easier to clean! So glad I purchased
Best investment
Wow amazing juicer! My first impression of this juicer was the quality of the material, very durable, nice jet black. I was confused about how to put the parts together after reading the how-to booklet. Easy as 1 2 3. Amazing juice results.
Best juicer!
My experience was amazing. I heard about the company through a friend who couldn't stop raving about her Empava juicer. So like any large purchase, I examined the reviews before I decided to commit. I used my juicer for the first time this weekend and now I totally understand why my friend loved hers so much- it's amazing!
Solid performance worth the money
I read a lot of reviews and after discussing with my brother who went through several of the lower-priced juicers, I decided on this one. The review with the wet pulp is really a direct result of not properly cleaning it. As long as you clean it well, this juicer will perform consistently time and time again. I do recommend juicing apples or softer fruit before you get into things like beets and kale as the juicer likes to be primed first. Very little if any parts of the fruits and vegetables are left unprocessed in the catch. It does produce a generous amount of foam which can be filtered out. I only have two real issues with this model. The main part that does the juicing has three points of contact that really after a few uses started showing signs of wear. It still works perfectly but I can see how over a long period of time that might be an issue but I'm sure the warranty will cover it. Overall I'm extremely happy with the purchase. I was using it twice a day for the first week but quickly realized cleaning it was getting old. I now prep about 2 to 3 days' worth of juices ahead of time.