60 Rpm Slow Masticating and Grinding: Empava slow masticating juicer adopted full copper DC motor, 90% More Nutrition Growth, without creating too much heat and friction. Reserve the vitamins, enzymes, minerals, trace minerals, and nutrients. With less foaming and no clogging.
Juice & Pulp Separation Function: Perfectly separates the pomace from the juice, and extracts the nutrients with less oxidation. 1L juicer cup & 1L pulp cup can serve your daily demand. Now you can enjoy the purest juice from apple, ginger, celery, carrot, kale, or vegetables.
Large Caliber Design & Wide Food Chamber for Whole Fruits: 3inch large feed chute easily accepts larger pieces of fruits and vegetables, Place whole fruits and vegetables in the wide chamber for quick, easy preparation. No thin slicing or chopping is required! Less chopping of the ingredients also helps to reduce oxidation.
Baby Health and Silent: Extracts less than 60 decibels. BPA-Free material, easy to assemble, operate, and clean. All detachable parts are easy to clean with the provided cleaning brush or could be safely cleaned in the dishwasher. A heavy-duty and stable body that lets you enjoy a quiet life.
Safe & Secure: All components of the Empava slow juicer are BPA-free in order to ensure the finest juice every time. The Reverse Function spins in the opposite direction to release food ingredients to reduce clogging and help when cleaning. The two-safety system makes Empava juicer can prevent you from being injured during juicing, the filter is made of food-grade 304SS, enabling it to make healthy juice that the whole family will love.
Material & Dimensions: 8.07 in. L x 7.48 in. W x 21.46 in. H, Net Weight: 10.09LBS. The compact design does not occupy much kitchen space and makes it easy to move and use. Non-slip silicone feet make it stable and do not scratch the desktop, the red finish design offers an attractive look, 1.2m UL Plug.
Warranty: The ETL Certified slow juicer was designed and engineered in the USA by Empava Appliances with 2 Years Warranty.
Description:
Crafting a wide range of fresh, healthy, homemade juice beverages is easy with the Empava Slow Juicer. Engineered to powerfully press and crush fruits and vegetables for maximum juice extraction, this kitchen essential is a must for wellness-minded home chefs. The masticating auger produces less heat to retain the full flavor and nutrients of the food. The auger ensures every bit of juice is extracted, while the pulp is ejected into its own pitcher. Add variety and quickly yet thoroughly extract the essence of nuts, wheat grasses, sprouts, and more. This ultra-versatile unit lets you create an endless array of nutritious and delicious beverage options, from pressed juices to alternative milk to refreshing tonics and spritzers. The mesh-free filter is easily cleaned under the tap, and the powerful motor operates with quiet efficiency.
You may also like 150W Cold Press Slow Juicer - EMPV-BLDR01 and 150W Cold Press Slow Juicer - EMPV-BLDR02
Cold Press Juicer completely separates fruit juice from the pulp. Pure fruit juice and fibers are obtained respectively. With different accessories, pure vegetable juice, smoothies, and sorbets can be made.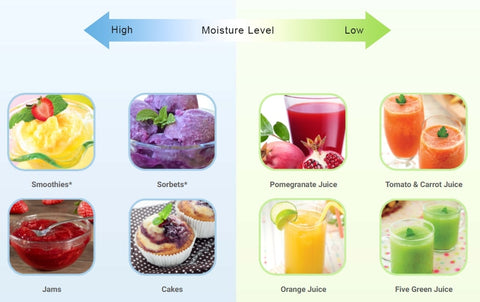 Contrast Between Centrifugal & Cold Press Juicer
The innovative cold press technology effectively delays oxidation, preserving the original flavor and vivid color of fruit juice. Abundant nutrients are also retained.

Higher Yield
Lasts Longer
Quiet Motor
Motor Warranty

You get more juice for every piece of fruit, vegetable, and nut.

Our juices taste fresh and last for up to 72 hours.

It's not loud like cheaper juicers or blenders.

Our long-lasting AC motor comes with a warranty.

Easy to Clean
Safe & 100% BPA Free
Taste & Pulp Control
Versatile

Simple assembly and very easy to clean after use.

No sharp parts and made with 100% BPA-free components.

Comes with strainers and a control lever so you can customize your juice.

Makes sweet & savory 

juices

 out of fruits, veggies, nuts, herbs, and seeds.
Shipping:
We offer "free ground shipping" for all US orders except: Alaska, Guam, Hawaii and Puerto Rico, where our shipments are not covered. For Canada orders, we charge a shipping fee. For different product categories, we offer different shipping fees because the weight and size are different.
Shipping Method:
(1)Standard / small orders ship out via: USPS, UPS and FedEx.
(2)For large items( pizza oven etc.), multiple items or large orders we use LTL freight.
Shipping Time:
(1)Standard shipping: 5-7 business days For Us orders, 10-15 business days for Canada orders

(2)LTL shipping: 7-14 business days For US orders, 10-15 business days For Canada orders
Once an order has shipped we are unable to change or modify it for any reason. For orders that use the LTL shipping method, if the consignee requests to change the destination, the shipment will return to the shipper and we will issue a refund less the 20% restocking fee. For Canada order, we will deduct 30% of your total refund amount. For a defective return, we will bear the return shipping cost and a full refund will be sent back to your account.

* All LTL orders need to be accepted for delivery within 5 days of the shipping carrier contacting you to set up a delivery date. For any order not accepted within 5 days, refused, or return to the sender a fee of 20% will be assessed. 30% for Canada order.
For all pick up orders, please state in the order that you intend to pick up the order from our warehouses.  All orders must be picked up by the name listed on the order when placed and with a valid identification card. If the order is not picked by the end of 7 days since the order was placed.  We will cancel the order and issue a refund.
Order Processing Time: 1-2 business days for both US and Canada orders
*Business days don't typically include weekends, however Saturday and Sunday deliveries may occur in certain zip codes.
*If you need to request a cancellation or make any changes to your order. Please contact our customer support as soon as possible by telephone at (888-682-8882) or email at (support@kitchenappliancestore.com) Monday - Friday from 9am -5pm PST. Unfortunately once an order has been sent to our warehouse we cannot guarantee cancellation or changes as to we are working quickly to get your order to you.
*Empava Appliances is not responsible for any USPS, UPS, FedEx or LTL delays in delivery.
Returns:
1: If you would like to return an item, please contact our customer support via email at (support@kitchenappliancestore.com) or telephone (888 682-8882) Monday - Friday from 9 am -5 pm PST to request a return within 30 days of delivery for a full refund. When contacting our support team ensure you provide them with your return reason.
2: Returns made without approval will not be accepted as to we have different return addresses for different products.
3: For returns due to buyers remorse (ie: Order by mistake, Does not fit, Change my mind, No longer needed, etc) customers are responsible for the return shipping cost along with a 20% restocking fee applied, 30% for Canada order. You should also save your tracking number to confirm when your item has been received at our location. Items being returned due to defects or quality issues a pre-paid return label will be provided to you upon you providing us with any pictures/videos showing the issue you are encountering.
4: If an item is found to be damaged in shipping. Do not accept or sign for the product. Simply refuse the package with the carrier and contact our customer support asap.
I see results with this affordable juicer.
I have food intolerances that I never had in my life due to all of the chemicals they are adding to the food nowadays. I react to soy, gluten grains, and certain preservatives. I have been dealing with anxiety due to chronic nausea and a few stressors. I mostly juice celery because they say it can heal the gut in just one week with 16 oz a day. I have seen major improvements in my anxiety and overall well-being. It's best to just clean it right after use. I have juiced other veggies and fruits with no problem. But right now I am juicing to heal. This is a good juicer for the price and you get results. I don't know how much better the results are with those $100 plus juicers but to me this gets the job done.
powerfull juice extractor.
after looking in different sites for the best Juicer a brand that personally I didn't know caught my eyes. I ordered the Empava BLDR03, and I was a little afraid of not having a good quality product. as soon as I received the juicer, I gave it a try the next morning by making a Carrot/Veet juice. this juicer blew my mind! the juice extraction process was as easy as 1. turn on the juicer 2. place the fruit/vegetable on the top 3. Gently push the fruit/Vegetable onto the grinder. I only used 4 carrots and 1 foot to make a 16oz glass of juice. it blew my mind that after I used Empava juice extractors this one is the most powerful. (this is an 800watt juiced compared with the 400watt juicer "SEEN ON TV" and the best of all there are no spills or juice loss when making juices.
I would recommend this to everyone looking to get a healthier life without the hassle of having to clean up a mess. I mean you would have to clean the grinder manually, but everything else can be just put on the dishwasher and it will get cleaned up.
Love the slow juicer!
Overall it was very easy to use and clean! I tried with all different kinds fruits and vegetables all works great and fresh tasting!
Amazing product
This was my first time using an Empava juicer and I am incredibly impressed. I was initially overwhelmed with trying to assemble the product, but once I figured it out, smooth sailing. The product has a low volume and extracts juice with minimal pulp. I love it!!
Juicer working well, but not all juice goes in container
This is my second machine. Overall, I like it, but when I remove the basket after juicing, there is juice remaining on the machine that should have gone in the container. I've used Empava for years and this is my only concern. So happy I can take care of my health with this juicer.