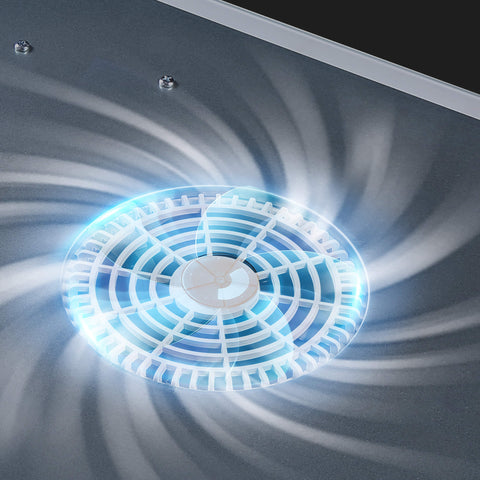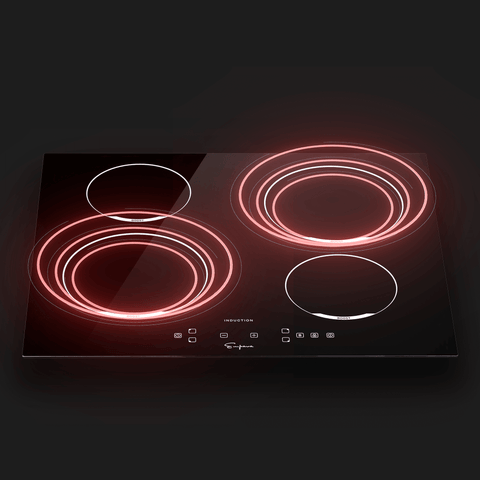 The flawless Empava smooth tempered glass surface allows for effortless cleanup, is manufactured without the release of hazardous metals into the ground, and withstands intense heat without cracking or chipping. Approved for installation over any Empava brand 24/30 in. under-counter single wall ovens. Most stainless steel and cast-iron cookware are induction compatible. Under any circumstances, make sure the electric cooktop is well ventilated and the air inlet and outlet are not blocked.
Hot Surface indicator - An "H" will appear in the surface cooking area display let you know when elements are hot to the touch with just a glance. Pan size sensor heats the element to the size of your cookware and turns off when no pan is present for safety and more efficient cooking. With induction cooking, heat is generated directly in the cookware, so the cooktop stays cooler to the touch, with child control lock feature prevents unintended activation for added safety.
Enjoy minimal cleanup with stain and heat discoloration-resistant spills that can't burn onto the surface, easy-to-clean vitro ceramic smooth surface glass will provide you with a reliable cooktop for years to come.
9 heat level settings for precise heating, perfect for the boil, stew, fry, stir fry, etc. Slider Sensor touch control is easy to use for all family members. Sensitive Digital Control and up 99 minutes timer will help you to cook perfectly and accurately. Set power & timer and then enjoy leisure cooking time
4 Different Burners Meet Your Need: This electric cooktop is freely adjustable to suit your cooking needs. High-power induction cooker: 1800 / 2100W(dia 9.06 ")+2 x 1200 / 1500W(dia 6.88")+2300 /3700W(dia 11.03"). 240V is more effective than 120V, fast heating saves your cooking time and makes it easy to handle multi-person parties
Hardwired- 3 copper wire cables from the home power supply, 220~240 Volts, 40 amps breaker
| | |
| --- | --- |
| Product Dimensions | 30 in W x 21 in D x 2-5/16 in H |
| Cutout Dimensions  | 28-3/4 in W x 19-5/16 in D |
| Package Size | 30 W*21 H*5 D in. Small Parcel |
| Warranty | 2 years  |
| Certification | ETL  |
| Compatibility | Any Empava 24/30 in. under-counter single wall oven, most stainless steel, and cast-iron cookware |
| | |
| --- | --- |
| Product Dimensions | 30 in W x 21 in D x 2-5/16 in H |
| Cutout Dimensions | 28-3/4 in W x 19-5/16 in D |
| Package Size | 30 W*21 H*5 D in. Small Parcel |
| Warranty | 2 years |
| Certification | ETL |
| Compatibility | Any Empava 24/30 in. under-counter single wall oven, most stainless steel, and cast-iron cookware |
Shipping:
We offer "free ground shipping" for all US orders except: Alaska, Guam, Hawaii and Puerto Rico, where our shipments are not covered. For Canada orders, we charge a shipping fee. For different product categories, we offer different shipping fees because the weight and size are different.
Shipping Method:
(1)Standard / small orders ship out via: USPS, UPS and FedEx.
(2)For large items( pizza oven etc.), multiple items or large orders we use LTL freight.
Shipping Time:
(1)Standard shipping: 5-7 business days For Us orders, 10-15 business days for Canada orders

(2)LTL shipping: 7-14 business days For US orders, 10-15 business days For Canada orders
Once an order has shipped we are unable to change or modify it for any reason. For orders that use the LTL shipping method, if the consignee requests to change the destination, the shipment will return to the shipper and we will issue a refund less the 20% restocking fee. For Canada order, we will deduct 30% of your total refund amount. For a defective return, we will bear the return shipping cost and a full refund will be sent back to your account.

* All LTL orders need to be accepted for delivery within 5 days of the shipping carrier contacting you to set up a delivery date. For any order not accepted within 5 days, refused, or return to the sender a fee of 20% will be assessed. 30% for Canada order.
For all pick up orders, please state in the order that you intend to pick up the order from our warehouses.  All orders must be picked up by the name listed on the order when placed and with a valid identification card. If the order is not picked by the end of 7 days since the order was placed.  We will cancel the order and issue a refund.
Order Processing Time: 1-2 business days for both US and Canada orders
*Business days don't typically include weekends, however Saturday and Sunday deliveries may occur in certain zip codes.
*If you need to request a cancellation or make any changes to your order. Please contact our customer support as soon as possible by telephone at (888-682-8882) or email at (support@kitchenappliancestore.com) Monday - Friday from 9am -5pm PST. Unfortunately once an order has been sent to our warehouse we cannot guarantee cancellation or changes as to we are working quickly to get your order to you.
*Empava Appliances is not responsible for any USPS, UPS, FedEx or LTL delays in delivery.
Returns:
1: If you would like to return an item, please contact our customer support via email at (support@kitchenappliancestore.com) or telephone (888 682-8882) Monday - Friday from 9 am -5 pm PST to request a return within 30 days of delivery for a full refund. When contacting our support team ensure you provide them with your return reason.
2: Returns made without approval will not be accepted as to we have different return addresses for different products.
3: For returns due to buyers remorse (ie: Order by mistake, Does not fit, Change my mind, No longer needed, etc) customers are responsible for the return shipping cost along with a 20% restocking fee applied, 30% for Canada order. You should also save your tracking number to confirm when your item has been received at our location. Items being returned due to defects or quality issues a pre-paid return label will be provided to you upon you providing us with any pictures/videos showing the issue you are encountering.
4: If an item is found to be damaged in shipping. Do not accept or sign for the product. Simply refuse the package with the carrier and contact our customer support asap.
I would highly recommend Empava to anyone
We recently bought an Empava Induction Cooktop and it has been exceptional! It heats up extremely quickly and the ability to simmer is unmatched. We did have to buy new pots and pans (Hexclad, and they are wonderful) since ours weren't magnetic, but we knew this before purchasing. The induction cooktop is responsive to touch inputs and is extremely easy to clean as there are no knobs to worry about cleaning around. I would highly recommend Empava to anyone looking to upgrade their kitchen to the newest and best appliances!
A great buy without the huge sticker
I recently made the switch from electric to induction. After months of researched I finally decided on a Empava 30 in. Built-in black with 4 elements including a 3,700 watt element. I love it. It gives me control over the heat. I don't have to worry about spilled burn foods on the cooktop. Easy to clean and boils water in a flash. Which cuts down on my cooking time. I wish it came in with for my kitchen. The customer service after my purchase made me feel even better about my buy. A great buy without the huge sticker for induction cooktops.
Great Cooktop!
We've had an Empava range for 5 years and like it so we decided to get the save brand of stove top. So far I love it. I like that there are no knobs. The control lock is handy, the rapid boil is very fast. We have purchased a second unit for our camper remodel.
everyone is envious ;-)
So, I hit a snug. I ordered a fantastic oven but didn't realize how it will fit in my newly renovated galley kitchen. Then I had a new countertop installed. Then I realized that there simply isn't enough space between the top of the new stove and the bottom of the countertop to fit my existing cook-top. oh no!!! So I turned to the internet to search for a cooktop that will fit in about 3-inches from the top of the countertop - and that is how I found the Empava Induction Cook-top. I read on and found that I will have to update all my pots and pans (well, not all, but most)... I spoke with friends and not many had much experience with it, but I plunged in regardless. I'm so glad I did. From the very moment I opened the shipping box, I was enamored by its sleek design and solid construction. [[you know when you buy something that wasn't constructed with care: sharp corners, gaps between parts, stripped or missing screws, etc..]] -- this is NOT the case here! Every corner lines up, every screw tight and straight, surfaces that didn't have to be painted actually are
Pleasantly surprised by this new brand
I dropped a glass on our whirlpool cooktop and it shattered, causing me to have to search for a replacement. The exact replacement for my Whirlpool was $900. I have been wanting induction so began researching - most of them were $2k. When I found this Empava one for significantly cheaper, I was skeptical at first but after researching online and so many positive reviews, I decided to buy and I am SO glad I did! This is a sleek, stylish and upscale-looking induction cooktop for fractions of the price of others. I have been using this regularly and love it- cooks things really fast, zero mess afterward. Love it! Definitely recommend and it was easy for my husband to install.