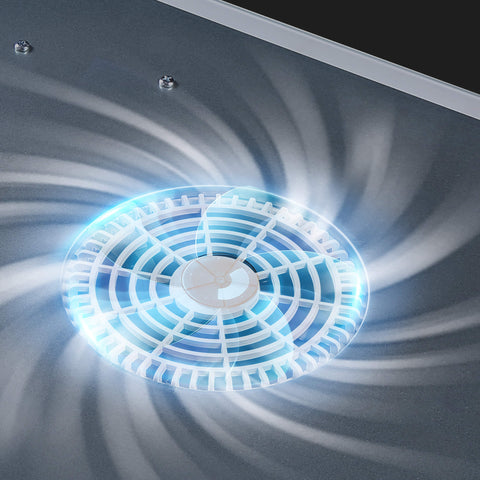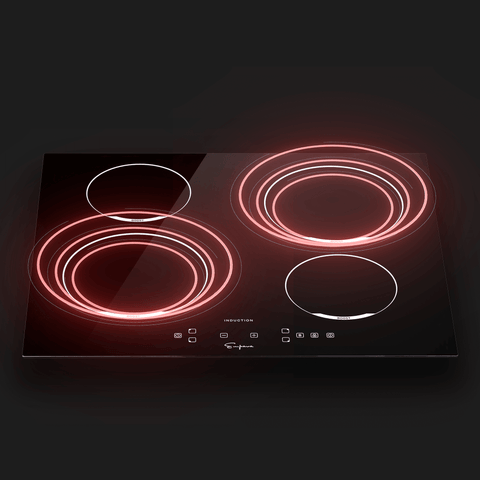 The flawless Empava smooth tempered glass surface allows for effortless cleanup, is manufactured without the release of hazardous metals into the ground, and withstands intense heat without cracking or chipping. Approved for installation over any Empava brand 24/30 in. under-counter single wall ovens. Most stainless steel and cast-iron cookware are induction compatible. Under any circumstances, make sure the electric cooktop is well ventilated and the air inlet and outlet are not blocked.
Hot Surface indicator - An "H" will appear in the surface cooking area display let you know when elements are hot to the touch with just a glance. Pan size sensor heats the element to the size of your cookware and turns off when no pan is present for safety and more efficient cooking. With induction cooking, heat is generated directly in the cookware, so the cooktop stays cooler to the touch, with child control lock feature prevents unintended activation for added safety.
Enjoy minimal cleanup with stain and heat discoloration-resistant spills that can't burn onto the surface, easy-to-clean vitro ceramic smooth surface glass will provide you with a reliable cooktop for years to come.
9 heat level settings for precise heating, perfect for the boil, stew, fry, stir fry, etc. Slider Sensor touch control is easy to use for all family members. Sensitive Digital Control and up 99 minutes timer will help you to cook perfectly and accurately. Set power & timer and then enjoy leisure cooking time
4 Different Burners Meet Your Need: This electric cooktop is freely adjustable to suit your cooking needs. High-power induction cooker: 1800 / 2100W(dia 9.06 ")+2 x 1200 / 1500W(dia 6.88")+2300 /3700W(dia 11.03"). 240V is more effective than 120V, fast heating saves your cooking time and makes it easy to handle multi-person parties
Hardwired- 3 copper wire cables from the home power supply, 220~240 Volts, 40 amps breaker
| | |
| --- | --- |
| Product Dimensions | 30 in W x 21 in D x 2-5/16 in H |
| Cutout Dimensions  | 28-3/4 in W x 19-5/16 in D |
| Package Size | 30 W*21 H*5 D in. Small Parcel |
| Warranty | 2 years  |
| Certification | ETL  |
| Compatibility | Any Empava 24/30 in. under-counter single wall oven, most stainless steel, and cast-iron cookware |