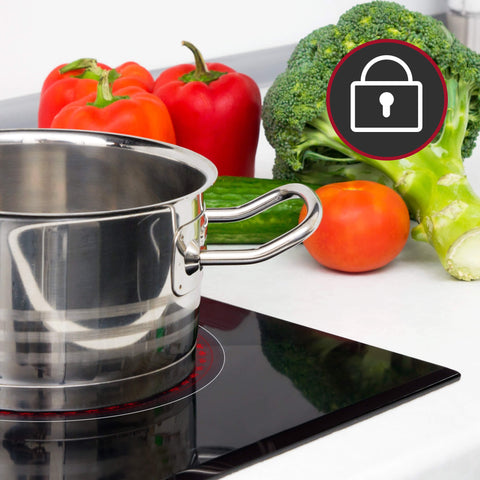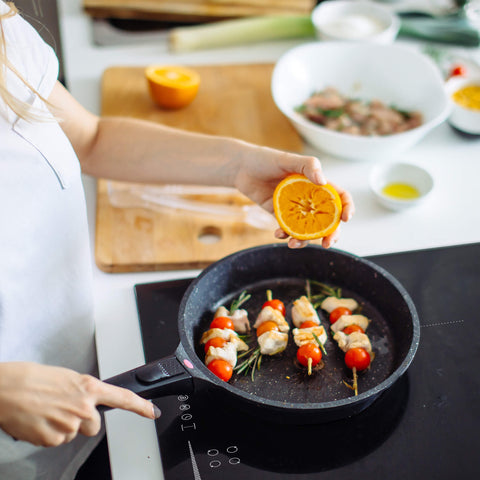 Product Dimensions: 30.31 in. W x 20.47 in. D x 2.20 in. H, Cutout Dimensions: 29.53 in W x 19.69 in D. Minimum circuit breaker amperage 50A, 240V hard-wiring included, Designed, and Engineered in the USA with 2 Years US Based Manufacturer Warranty.ETL, CETL, and FCC Certified
Two 15.75 in. x 7.48 in. Flexi-bridge burners allow you to control two heating elements simultaneously to evenly heat large cookware or griddles up to 3600W with the booster. It's good for oversized cooking. The auto-shutdown features will protect you if you forget to turn it off.
Under any circumstances, make sure the electric cooktop is well ventilated and the air inlet and outlet are not blocked.
This Empava Induction cooktop features Two 7.48 in. burners up to 2,000 W each, Two 7.48 in. burners up to 2,600 W each in Power Boost Mode for up to 5 minutes. Compatible to install above any Empava 24/30 in. under-counter single wall oven, 1500W-7200W Electric Cooktop with Glass Smooth Surface.
The built-in digital display timer (up to 99 minutes) can be set to turn one or more cooking zone off, each cooking zone has an individual timer setting. You can set it to turn the cooking zone off automatically after your setting time is up, rest, and enjoy the rare leisure time! It will help you to cook perfectly and accurately.
Slider Touch Controls also give this induction cooktop a fantastic array of Easy to Use, The controls respond to touch, so you don't need to apply any pressure. Simply adjust the power setting to your desired level with slide control. Besides, the hob with Boost, Keep Warm, individual timer, Child Lock, Auto pan detection, Overheat Protection, and Stop & Go (Pause) Function, is extremely easy to use.
Flush with the countertop and is designed for a sleek built-in appearance. The reasonable cooking zone layout makes sure there's enough space between burners to use several pots at once without pushing one off-center. The flawless glass surface withstands intense heat without cracking or chipping.
Enjoy minimal cleanup with the smooth surface Vitro-glass induction cooktop by Empava to prevent food from falling into them. Stain and heat discoloration-resistant glass surfaces will provide you with a reliable cooktop for years to come. Compatible with the most stainless steel and cast-iron cookware.
With ETL, CETL and FCC certified, The Empava 30-in Black Electric Stove Induction Cooktop with 6 Booster Burners Including 2 Flexible Zones is a perfect combination of style and practicality. Our induction cooktops, gas cooktops, and wall ovens are fully equipped for safety, the sleek black finish and built-in design offer an attractive look for any counter. A Red LED display with a black glass surface helps achieve a modern look that complements the entire kitchen. Now you are cooking! 2 Flexible Zones with Pan Detector - Get free from the limited ring zone! This Hob has enough power to get all 4 burners going at the same time, when Flexi Mode you can get two burners going at the same time on the same level of heat, was combined to form one flexible big zone to fit any larger or long pan or griddle for BBQ use, Enjoy all these features even more by knowing this cooktop. Because It uses electricity to generate a magnetic field on the top of the cooking area. The magnetic field can generate heat and evenly radiate heat, Total power can be up to 7200W. making cooking easy and fast, suitable for iron, stainless steel, and alloy pots. Empava products offer the best in contemporary design matched with the latest in appliance technologies to transform the way you live.
Shipping:
We offer "free ground shipping" for all US orders except: Alaska, Guam, Hawaii and Puerto Rico, where our shipments are not covered. For Canada orders, we charge a shipping fee. For different product categories, we offer different shipping fees because the weight and size are different.
Shipping Method:
(1)Standard / small orders ship out via: USPS, UPS and FedEx.
(2)For large items( pizza oven etc.), multiple items or large orders we use LTL freight.
Shipping Time:
(1)Standard shipping: 5-7 business days For Us orders, 10-15 business days for Canada orders

(2)LTL shipping: 7-14 business days For US orders, 10-15 business days For Canada orders
Once an order has shipped we are unable to change or modify it for any reason. For orders that use the LTL shipping method, if the consignee requests to change the destination, the shipment will return to the shipper and we will issue a refund less the 20% restocking fee. For Canada order, we will deduct 30% of your total refund amount. For a defective return, we will bear the return shipping cost and a full refund will be sent back to your account.

* All LTL orders need to be accepted for delivery within 5 days of the shipping carrier contacting you to set up a delivery date. For any order not accepted within 5 days, refused, or return to the sender a fee of 20% will be assessed. 30% for Canada order.
For all pick up orders, please state in the order that you intend to pick up the order from our warehouses.  All orders must be picked up by the name listed on the order when placed and with a valid identification card. If the order is not picked by the end of 7 days since the order was placed.  We will cancel the order and issue a refund.
Order Processing Time: 1-2 business days for both US and Canada orders
*Business days don't typically include weekends, however Saturday and Sunday deliveries may occur in certain zip codes.
*If you need to request a cancellation or make any changes to your order. Please contact our customer support as soon as possible by telephone at (888-682-8882) or email at (support@kitchenappliancestore.com) Monday - Friday from 9am -5pm PST. Unfortunately once an order has been sent to our warehouse we cannot guarantee cancellation or changes as to we are working quickly to get your order to you.
*Empava Appliances is not responsible for any USPS, UPS, FedEx or LTL delays in delivery.
Returns:
1: If you would like to return an item, please contact our customer support via email at (support@kitchenappliancestore.com) or telephone (888 682-8882) Monday - Friday from 9 am -5 pm PST to request a return within 30 days of delivery for a full refund. When contacting our support team ensure you provide them with your return reason.
2: Returns made without approval will not be accepted as to we have different return addresses for different products.
3: For returns due to buyers remorse (ie: Order by mistake, Does not fit, Change my mind, No longer needed, etc) customers are responsible for the return shipping cost along with a 20% restocking fee applied, 30% for Canada order. You should also save your tracking number to confirm when your item has been received at our location. Items being returned due to defects or quality issues a pre-paid return label will be provided to you upon you providing us with any pictures/videos showing the issue you are encountering.
4: If an item is found to be damaged in shipping. Do not accept or sign for the product. Simply refuse the package with the carrier and contact our customer support asap.
Five Stars
Excellent product recommended 100%
LOVE IT! Great Price!
I love this cooktop. It is exactly as described and works perfectly. I couldn't be happier with this purchase.
Looks great
Burner knobs easy to read. Looks and works well.
Super
Great induction cooktop. Easy to install, looks super