By Empava Appliances
The Right Home for Every Bottle - Empava Dual Zone Wine Fridge
Date:September 26, 2023
Any wine connoisseur knows finding the perfect place to store prized vintages is key to preservation. The proper storage conditions maintain nuanced flavors and allow bottles to mature optimally over time. That's why the Empava dual zone wine fridge provides the ideal environment to become every wine's dream home.

Engineered specifically with wine care in mind, the Empava dual zone wine refrigerator flawlessly protects both reds and whites simultaneously. Advanced technology ensures your collection stays at the peak of quality and taste. Give your valued wines the specialized storage they deserve with Empava.
Maintaining Ideal Individualized Climates
What makes the Empava wine fridge so uniquely equipped to house wines is its precision dual zone temperature controls. The fridge contains two fully independent zones settable between 40°-72° Fahrenheit.

The dual zones allow you to create tailored storage based on ideal serving conditions. Set the upper zone to 45°-65°F for sparkling, white and rosé wines which thrive at cooler temps. Reserve the lower compartment for 58°-72°F to properly keep fuller-bodied reds at slightly warmer yet stable temperatures.

Wines rest fully protected from disruptive temperature fluctuations that can mute delicate flavors and accelerate aging. Each bottle finds its perfect home within the stable environment. Even large collections remain consistently preserved thanks to Empava's supreme thermal technology.
Unparalleled Insulation for Thermal Consistency
The Empava dual zone's superb insulation maintains set temperatures steadily over the long term. The high-density foam walls prevent warmth transfer and cold air loss even with frequent opening. Inner CO2 blown thermal layers trap the desired chill while the insulated glass door with UV ray filtration blocks external heat sources.

Double pane anti-fog glass allows monitoring your collection without temperature disruption. The whisper-quiet compressor perpetually stabilizes the dual climate zones without vibration disturbances. Empava's insulation advances bottled preservation through any season or climate.
Spacious Storage Equipped for Collections
Housing your wine means accommodating everything from single night sippers to long term collections. With Empava's generous capacity racking, the dual-zone fridge welcomes up to 33 standard 750ml bottles comfortably spaced for air flow.

The beechwood faced racks safely cradle each bottle at a slight tilt to keep corks moist. Six height adjustable chrome shelves permit stacking different bottle shapes and sizes securely. Extra deep shelves allow you to double stack when needed.

The right-hinged reversible door permits versatile built-in or freestanding use. For most convenient access, install your Empava wine fridge undercounter or integrate cleanly into cabinetry using trim kits. Keeping your valued vintages readily at hand ensures peak flavor every pour.

Advanced Filtration Protects Taste Nuances
To keep your wine tasting its absolute best, Empava equips the dual-zone fridge with a 3-stage filtration system. First, an exterior carbon filter removes contaminants from air before it enters the cooling system. Then interior dual filters isolate sulfur compounds and other volatiles that can degrade wine over time.

Advanced purification actively safeguards complex aromas and tastes. Filters are easily accessible from the front vent for hassle-free replacement every 3-6 months. Empava puts wine quality first right down to the very air filling the fridge.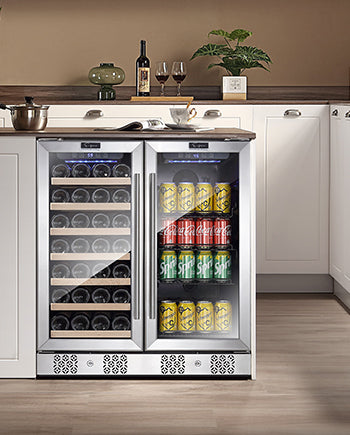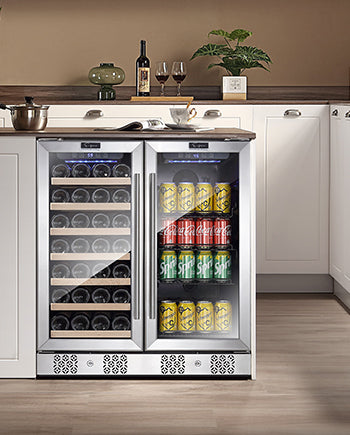 Easy Monitoring for Immediate Access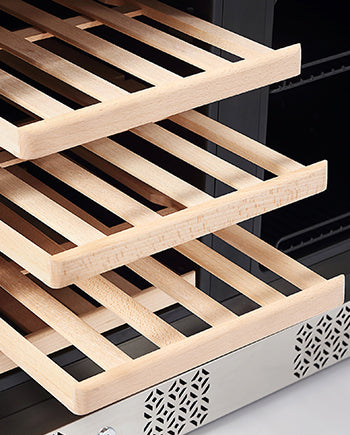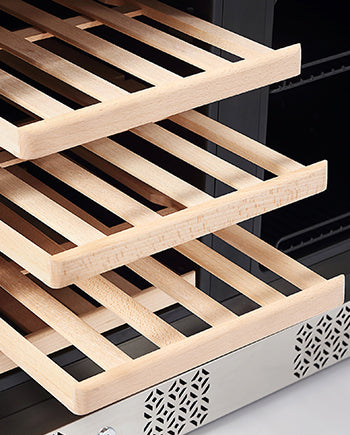 The sleek touchscreen digitally displays both zones' temperatures to the precise degree. Settings are effortlessly adjustable as collections change. Built-in alarms notify you of overheating, power loss, and door ajar issues that could compromise your wines.

Interior LED lighting illuminates stored bottles for quick selection. Activated by motion sensors, the lights automatically switch on when the door opens then switch off to avoid further heat exposure. The convenient digital interface makes managing your collection a breeze.
Dedicated to the Art of Wine Preservation
Empava passionately crafts home innovations dedicated to the ideal enjoyment of wine. From the specialized storage conditions to quality materials and exacting craftsmanship, the dual-zone wine fridge demonstrates that commitment. Housed in Empava, your wines reach their full potential each time you pour.

Make your valued wine collection feel truly at home and discover the flavors within. With Empava's dual-zone wine fridge, every cherished bottle finds its ideal place to preserve subtle tastes for years of wine-drinking wonder.
Pros and Cons Of A Dual Zone Wine Fridge
Dual zone wine refrigerators have unique benefits compared to single zone wine units and standard kitchen fridges when it comes to wine storage.
Pros of a Dual Zone Wine Fridge:


Allows setting different temperature zones ideal for both reds and whites.
Prevents flavor transfer between red and white wines stored in close proximity.
Provides better temperature stability compared to opening a full fridge.
Enables storing a wide variety of wine types in their optimal conditions.
Offers more tailored storage for serious collectors over single zone units.
Engineered for vibation-free operation and ideal humidity levels.

Cons of a Dual Zone Wine Fridge:

More expensive than single zone and basic kitchen refrigerators.
Overkill for casual wine drinkers with modest collections.
Can only store wine - less versatile than standard kitchen fridges.
Typically smaller capacity than full size refrigerators.

The dual zoning and specialized engineering make these units ideal for protecting precious wine investments that deserve meticulous storage and care. For larger, everyday wine collections, single zone fridges offer a space-saving solution. And for casual wine drinkers, simply designating a kitchen fridge area works fine. But for true wine devotees, a dual zone fridge provides the peak environment.
Choosing a selection results in a full page refresh.
Quick view
[split_t4nt][split_t4nt][split_t4nt][split_t4nt]