By Empava Appliances
Essential Pizza Oven Accessories Every Home Chef Needs
Date:September 27, 2023
Top Pizza Oven Accessories for Home Chefs
Using your backyard pizza oven to its full potential requires having the right accessories on hand. Beyond just the oven itself, there are several pizza-making tools that make home pizza chef life easier and improve results. Equip your outdoor kitchen properly and make pizza perfection at home a reality.
Pizza Peel
This specialized pizza paddle is arguably the most essential pizza oven tool. The large, flat surface and long handle allow seamlessly assembling, moving, rotating and retrieving pizzas. Sturdy wood and aluminum pizza peels prevent sticking. Perforations in the surface aid slideability. Invest in a quality pizza peel for smooth workflow.
Infrared Thermometer Gun
Monitoring temperatures is crucial for proper wood-fired pizza oven use. An infrared thermometer gun lets you spot check temps in specific areas without disrupting the environment. This allows closely tracking that your oven is in the 700-900°F sweet spot before cooking. Infrared guns eliminate temperature guesswork and inconsistency.
Oven Gloves & Mitts
Operating a blazing hot pizza oven requires protection from potential burns. Heat resistant gloves and mitts allow you to safely handle hot oven tools and retrieve finished pizzas. Leather welding gloves work well, but specifically designed oven mitts with insulation up to 600-800°F offer better dexterity. Keep hands burn-free.
Metal Pizza Peel
While the wood peel is ideal for sliding pizzas into the oven, a smaller metal pizza peel comes in handy for retrieving slices that won't fit on the larger paddle. The perforated metallic surface also won't absorb oils and moisture like wood can over time. Use for portioning cooked pies.
Pizza Cutter Wheel
Once your masterful pizza creations are cooked to perfection, you need a proper pizza cutter wheel to slice them into neat portions for enjoying. Sturdy stainless steel circular cutter wheels with comfortable handles swiftly divide pies without smashing down the crust.

Oven Brush & Digital Thermometer with Probe
Oven Brush & Shovel – After many home pizza parties, excess flour, crumbs, and ash will accumulate inside your oven. A long handled brass brush cleans the oven floor and interior surfaces while a sturdy shovel scoops out debris from the oven's mouth. Keeping your pizza oven tidy improves heat flow and performance.

Digital Thermometer with Probe – If your pizza oven lacks a built-in thermometer, use an external digital thermometer with an oven-safe probe to monitor temperatures during preheating and cooking. The probe withstands high heat to stay inside while the exterior digital screen shows real-time oven temp. This eliminates heating guesswork.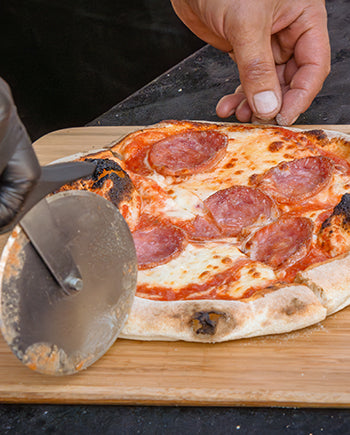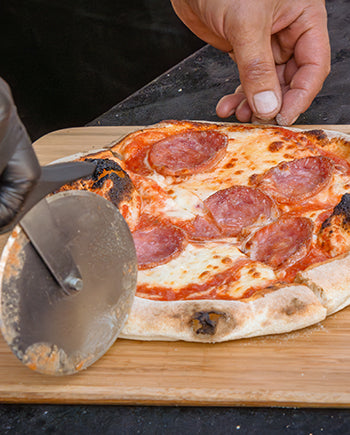 Pizza Oven Floor Brush
Over time, stone oven floors can accumulate carbonized grease and flour residue. A specialized angled bristle brush designed for pizza oven floors allows scrubbing and cleaning the cooking surface to maintain ideal heat conductivity and allow dough to slide off easily after baking.
Gas Oven Ignition Tool 
Gas-fired pizza ovens require long grill lighters to reach into the burner tube opening and safely ignite the oven. Extendable wand lighters keep hands away from the immediate flame ignition area. Use with proper care and caution.
Stainless Steel Table
A sturdy stainless steel table positioned next to your pizza oven provides a durable and stable prep surface for assembling uncooked pizzas, toppings, and tools right at the oven's opening. Optional wheels allow moving the portable table in and out of place as needed.
Weatherproof Cover
For outdoor pizza ovens, a weatherproof vinyl cover protects your investment when not in use from harsh weather conditions. Straps keep the cover securely fastened. Just remember to uncover fully before preheating the oven to avoid dangerous heat entrapment.
Smoke & CO Detector 
As an added security measure, installing a battery-powered carbon monoxide and smoke detector on the wall above your outdoor pizza oven alerts you to any accumulating gas or chimney issues. This safeguards you while operating the live fire cooking appliance.
Fire Extinguisher 
Keep a small multipurpose fire extinguisher within reach of the backyard pizza oven in case of any grease or electrical fires. Familiarize yourself with proper operation so it can be used quickly if ever needed to contain a pizza oven fire before it spreads.
Cleaning Tools
A putty knife, brass brush, ash rake, vacuum crevice tool, and oven cleaning spray are essential for deep cleaning the oven interior between home pizza parties. Remove built up ash, food debris, and stubborn stains to keep the oven in top shape.
Oven Camera
For entertainment value, mount an interior oven camera with heat-shielded lens and feed it to your outdoor television or tablet. This allows crowds to watch pizzas cook and cheese melt from the safety of the patio. Great for keeping kids engaged as you work.
Cutting Board
Use a dedicated large wooden cutting board as a durable surface for all your pizza prep work like rolling dough, chopping toppings, and slicing pies after cooking. Separate boards reserved just for pizzas prevent cross contamination with other foods.
Dough Rolling Pin
A tapered French-style wooden rolling pin evenly spreads and flattens dough without tearing it. Sprinkle dough rounds with flour to prevent sticking to the wood. Smooth dough for evenly baked pizzas.
Dough Box 
For storing prepared dough balls or bulk dough, an airtight plastic dough box prevents drying and extends refrigerated shelf life. Clear lids allow glancing to see how many dough balls remain at a quick glance.
Having the right specialty accessories on hand allows any home chef to master restaurant-worthy pizzas from their own backyard pizza oven. Equip yourself with the essential tools to maximize convenience, safety and delicious results.
Choosing a selection results in a full page refresh.
Quick view
[split_t4nt][split_t4nt][split_t4nt][split_t4nt]