We always say the range is the workhorse of any kitchen while the refrigerator is the MVP, but without a range hood ventilation system, you can forget about cooking altogether in your home. A range hood was made to remove steam, smoke, odors, and heat while you're cooking, circulating everything to the outdoors and away from your lungs. 
So, if you don't have one, your kitchen could become one smoky mess, not only making it difficult to see what you're cooking through the thickness but also making it hard to breathe well. Not to mention that over time, if you don't use a vent hood you'll start to notice a buildup of grease particles on your walls and cabinets—and trust us, it is not fun trying to wash it off.
And because range hoods take care of the air in our home, it's important to do maintenance checks as well as monthly washings to ensure your ventilation is as clean as possible for all your culinary adventures in your kitchen.
The Different Types of Range Hoods
If you're not sure what kind of range hood you have, here's a quick guide to help you determine yours:
Under-Cabinet Range Hoods

 

- Due to their smaller size, easy installation, and affordability, under-cabinet range hoods have been a common ventilation hood choice for many people. You can find them attached to the underside of the kitchen cabinets that sit above your cooking appliance. 
Wall-Mounted Range Hood 

- The wall-mount range hood, also known as a wall-mounted chimney because of its shape, is a staple in most modern and contemporary kitchens. They are similarly designed like under-cabinet hoods but instead of the underside of the cabinets, they are connected to the wall.

Island Range Hoods

 

- While they look a bit like a wall-mounted range hood, the main difference is that these gorgeous hoods vent above your kitchen island—through the middle of your ceiling. Normally large and open kitchens sport an island range hood where it's usually placed in a central location, adding a chic aesthetic.
Insert Range Hoods

 

- When you're wanting your range hood to be placed in a less noticeable way in your kitchen, going with a range hood insert is a clever choice. The insert hides away above your range or cooktop and into your cabinetry so as to not take the focus away from your cooking space.

Downdraft Range Hoods

 

- It may be less of a "hood," since the system pops out from within the cooking appliance or countertop, but this downdraft range vent will still efficiently filter the air to the outside through the appliance and cabinetry and then hide away for a completely seamless look.
How to Maintain Your Range Hood
Each range hood may be designed a little differently, but overall, they can all be cleaned and maintained rather similarly. Downdraft vent hoods are made uniquely and require slightly modified steps—which we'll point out—otherwise, you can count on this cleaning method to generally work across the board. Follow these tips to keep your ventilation hood in tip-top shape: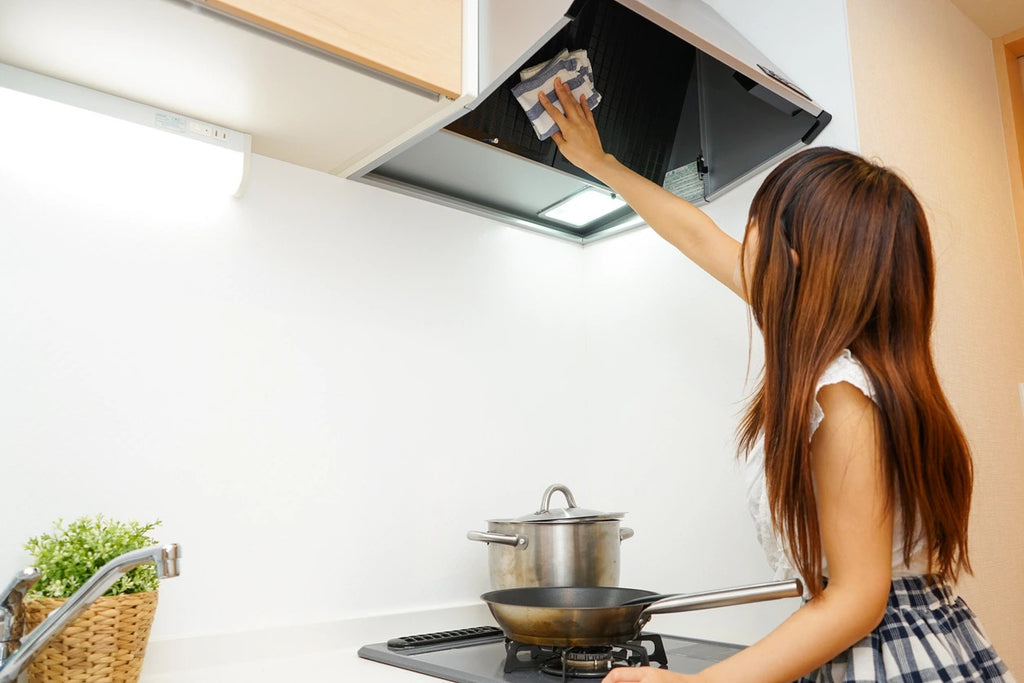 1. Choose the Correct Cleaner
It's important before cleaning the exterior to determine the specific material that your range hood is made of. Is it stainless steel? Then, you'll want to use warm, soapy water as your cleaner. Is it made of a metal like copper? Use a copper cleaner. Is it glass? Use a glass cleaner. 
Simply spray or wash your range hood's exterior with the appropriate cleaner and wipe away with a dry washcloth. If there is a thick layer of grease and dust, you may need to let it soak for a couple minutes before wiping off the remnants with a washcloth or paper towel.
This should hopefully be the fairly easy and extremely satisfying part, especially if you happen to clean a greasy stainless steel range hood. With the right cleaner, your vent hood will go from lackluster to brilliant.
2. Scrub Underneath
Now that the outside is beautiful, it's time to take a look at what's hiding underneath. Before opening the vent grates to get to the range hood filter, you'll want to clean this area first. Continue to use the correct cleaner (soap and water, all-purpose cleaner, etc.) to wipe away the grease like you did to the exterior of your range hood.
Don't be surprised if this takes a little more elbow grease since the underside of your range hood takes the biggest hit with grease and smoke.
3. Remove the Range Hood Filter
Most range hoods should simply slide or pop out, but if it's not intuitive, we suggest reading your owner's manual or checking Youtube for help on how to remove your specific model's range hood filter.
For downdraft vent hoods, be sure to turn off the controls before cleaning and removing the filter. You should be able to easily lift the vent grate up to remove it and then pull the filter out of the vent chamber.
Fill your sink or a large-enough container with hot water, a squeeze of dish soap, and a tablespoon of baking soda where you will let your filter soak for 10 to 15 minutes. Go ahead and let it soak for longer if the grease buildup is extra thick. You can also use a scrub brush to help loosen some of the grime.
Once your range hood filter looks spotless (or as close to spotless as it's going to get), lay it on a towel to air dry.
4. Spray the Inside
While the filter is out of your vent hood and drying, this is a good opportunity to take a look inside and see if there are any issues. Sometimes, the grease makes its way through the duct, which can be dangerous in severe cases. Simply spray the inside with an all-purpose cleaner, let soak for 5 minutes if needed, and wipe all that icky grease away.
5. Put the Filter Back
Don't forget to put your filter back on! After it dries completely, you can go ahead and re-install it carefully.
Side note: If your range hood filter happens to be either fabric or charcoal, these cannot be cleaned! You will just need to replace them with a new filter.
At Empava Appliances, it's important to us that your appliances are doing everything they can to give you the best life possible. So, when it comes to your range hood, we hope that you can use these simple tips to maintain and clean your ventilation system so that your cooking space is always fresh. 
If our list of range hoods has inspired you to do some window shopping, you can do so virtually through our online catalog. But if you prefer to stop by and see what we have in stock, our experts are always available to show you what we have to offer. Give us a call or visit when you're ready, and we'll be here to help on your range hood shopping journey!