When it comes to serving temperature for wine, a common rule of thumb among casual wine drinkers is to chill it in the refrigerator for 10 to 15 minutes before serving if it's red. Remove it from the refrigerator 10 to 15 minutes before serving if it's white.
Excessively cold a white wine can taste too acidic, while too warm a red wine can taste barren and unstructured. Wine loses all of its enticing smells when served at the incorrect temperature.
I was once offered an expensive bottle of Champagne that had spent too much time in the ice bucket. My fizz was accompanied by the awful aromas of burnt bread. After thirty minutes in the glass to warm, all of the citrus and floral flavors reappeared.
Temperature, on the other hand, does more than only change the appearance of a wine. Too much heat and light will "cook" your wine, converting vibrant fruit tastes into sour stewed prune flavors. The faster the wine ages, the warmer the air. And, unlike the bottle of Champagne I consumed, the lovely flavors aren't going to come back.
This is why wineries age their bottles in caves and wine enthusiasts store their wines in cellars, both of which provide cold, stable temperatures.
Leaving your wine on the kitchen counter to collect heat from a hot stove and other appliances is a bad idea. While using your standard refrigerator as a full-time cooler won't harm your wine, having too many bottles on hand can cause them to roll around or break when you're reaching for dinner items or a late-night snack. Not to mention the fact that any bottle must be warmed before being poured into a glass (who has the patience for that?).
That's why investing in a wine fridge, which allows you to manage the temperature of your wine (which should be 10 to 20 degrees warmer than your standard refrigerator and around 10 degrees cooler than room temperature), is a good idea. Imagine taking home a Chianti from a vacation to Italy, or buying your favorite bottle of Champagne from a local wine shop, only to discover it's no longer palatable after sitting in a sun-drenched kitchen for several months.
Wine coolers are available in a variety of sizes. Energy efficiency, technology used, humidity controls, and design are all factors that influence costs. Some models offer two temperature zones, in case you want your reds to be one temperature and your whites to be another (depending on the wine and who you ask, wines should be stored anywhere between 50 and 60 degrees).
Consider the following possibilities:
A fridge that carries around 2 cases of wine, such as this Empava WC01S wine cooler 15 inch 31- bottle freestanding and built-in compressor wine fridge that even fits on some counters and includes a lock for less than $800, is the easiest answer for the casual drinker.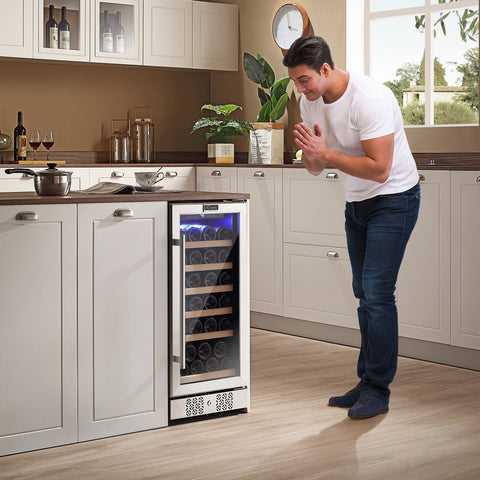 There are wine refrigerators meant to be fitted under your kitchen counter–often holding three to four cases of wine–for the entertainer or daily consumer, such as this Empava WC04D Wine Fridge 24 Inch 46-bottle Double Zone Wine Fridge.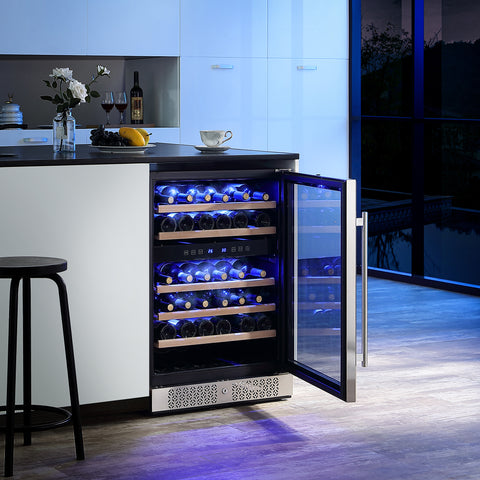 For apartment dwellers like myself, freestanding models like this Empava Beverage Refrigerator Wine Cooler BR04D, 6.2cu.ft 96 Cans & 33 Bottles Dual-Zone Fridge, which are as quiet as a mouse and don't add too much to the electric bill, plus they look attractive to blend into your home bar area or living room. The extra advantage of this wine fridge is that it can also store your beverage, which can leave more space for your food refrigerator.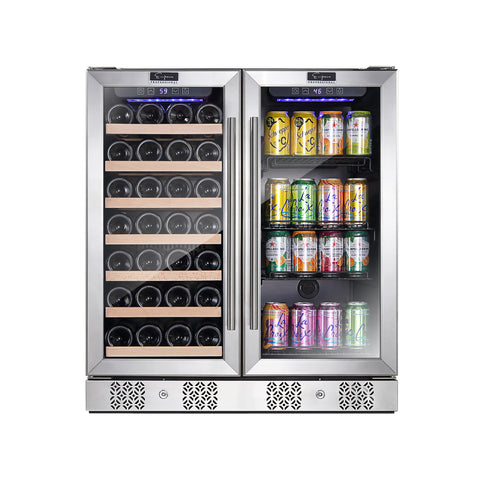 Those with high-value collections who desire more precise temperature and humidity controls, greater lighting, energy efficiency, and sleeker finishes should consider Empava WC08D Tall Wine Fridge 70 inch Tall Double Zone Wine Fridge, engineered with a powerful high-efficiency compressor and 3 convection fans to evenly distribute cold air throughout the cabinet so that the whole cooler can be maintained in ideal climate settings. It can hold up to 160 bottles of your favorite wine in different sizes. Ensure that every bottle can keep the same humidity, preventing hot spots, frosting, and uneven cooling.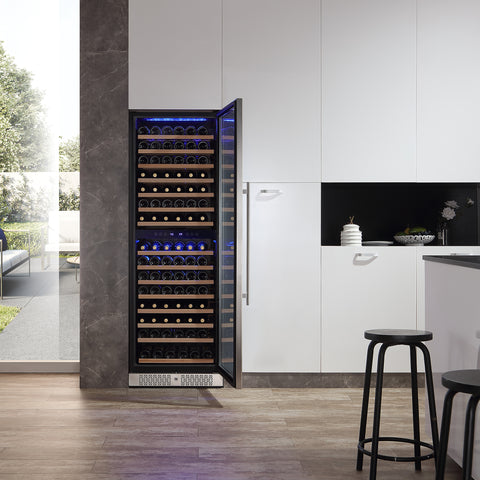 Always keep in mind that wine is a fickle beast. There is no such thing as a flawless solution, and nothing can be guaranteed with a bottle of wine. One of my favorite finds was a 30-year-old bottle of Napa Cabernet that I brought over to a friend's house and referred to as a "science experiment" because it had been sitting upright on a bar cart in the middle of my parent's dining room for at least a decade. Not only was it still alive and well when we opened the bottle, but it was also delicious to drink. It was one of those special bottles that make wine aficionados like me giddy.
But, while we got lucky with that bottle, will other bottles that have been incorrectly preserved have the same luck? There's no way to know for sure, but if you're struggling with rising wine prices or storing unique bottles for special events, a wine refrigerator can help.