Choosing the greatest gas range should be a top priority for everyone who enjoys cooking. They require a range that is both more powerful and larger than standard gas ranges. If you're one of those folks who needs more burners and power, a 36-inch gas range is what you'll need.Today, we'll discuss the 36-inch gas range, also known as a 5-burner gas range.
A 36" gas range has the size and power of a commercial gas range, but its insulation and safety make it suitable for household use. You should think about a few things before selecting this type of gas range.
Choose a 36-inch gas range that is simple to clean, for starters. Food debris should not accumulate below the gas cooktop, as this will make cleaning more difficult. Consider how difficult it would be to clean small food crumbs and filth from beneath your cooktop. Simply cleaning everything out will take a few hours.
Make sure the gas burners have seals to keep food debris out. You will have a difficult time finding a gas range that cleans itself, as this feature is typically seen in electric ranges.
What are some of the benefits of a Gas Range?
The cost of running a gas range is relatively low.
They have excellent heat control, which is crucial for evenly cooking food.
A griddle or a convection oven are available on some gas ranges, which can be used to cook food more evenly.
They come in both freestanding and slide-in versions.
Because of their versatility, they are a popular choice among home cooks.
Cleaning and maintaining a gas range is simple.
They are an excellent option for those who adore cooking.
They can be used to cook meats, vegetables, and baked goods, among other things.
They can be used to swiftly and evenly cook food.
Expert'S Pick: Top 5 Best 36 Inch Gas Ranges In The Market
To guarantee you make the greatest choice, we've hand-picked and reviewed the top 5 best 36 inch gas ranges.
Top 1     Empava 36 inch 5.2 cu.ft. Single Oven Gas Range 36GR08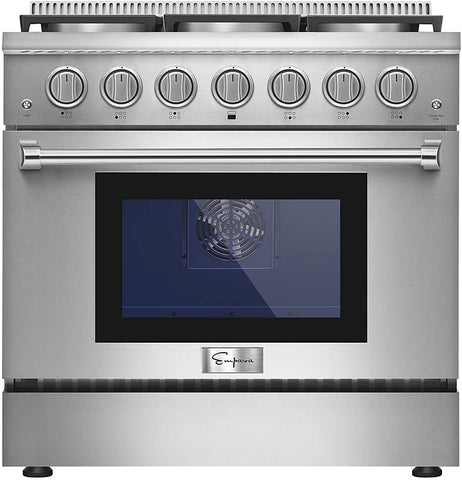 This top 36 inch gas range offers exceptional cooking performance thanks to its six flexible burners and heavy-duty cast iron cooking grates. It contains two 15000-BTU dual-ring burners, three single 12000-BTU burners, and one 18000-BTU burner for boiling, simmering, stir-frying, melting, steaming, caramelizing, and more.
The zinc alloy control knobs with blue LED lighting are another feature we like about the Empava 36 in. Pro-Style Slide-in Single Oven Gas Range. You can always detect if an appliance is on from a distance this way.
Pros:
Wide temperature range from 150 – 500 degrees F
Large 5.2 cu. Ft. oven capacity
Five adjustable rack positions
Visually interesting design
Cons:
On the pricey side
Top 2    Empava 36GR01 Stainless 36 inch Single Oven Gas Range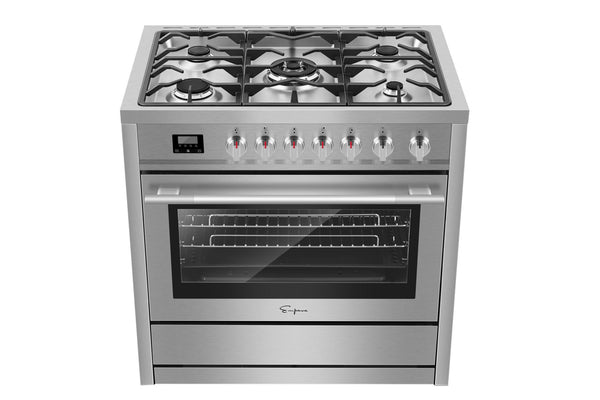 The Empava EMPV 36GR01, with its four-burner layout, is another professional gas range that has made it onto our list. This top 36-inch gas range allows you to cook a wide variety of dishes with precision.
It features four burners: a fast 8200-BTU burner, an auxiliary 5000-BTU burner, two semi-rapid 6900-BTU burners, and a 17400-BTU burner. You can stir-fry, steam, melt, boil, simmer, caramelize, and much more with these heavy-duty burners.
Furthermore, the Empava EMPV 36GR01 works with both natural and propane gas. It also has auto shut-off technology to keep your family and home safe in the event of an accident.
Furthermore, you can specify the optimum cooking temperature between 150 and 475 degrees F, as well as the cooking period to no more than 13 hours. The oven has a 3.9 cu. ft. cooking capacity and two adjustable oven racks for customizing the cooking space and easy cleaning.
The oven, for example, has a powerful convection cooking technology that evenly distributes hot air for even cooking. The oven also includes halogen oven lights and a huge oven window so you can monitor the cooking process.
Pros:
2 YEAR WARRANTY FROM THE MANUFACTURER IN THE UNITED STATE
Large capacity 3.9 cu. ft. stainless steel structure
Liquefied Petroleum Gas Conversion Kit is included.
Cons:
It's possible that the ignition system may be more dependable.
Top 3    Cosmo COS-F965NF 36 in. Dual Fuel Range
Cosmo's best 36-inch dual fuel range provides one of the most enjoyable cooking experiences. The Cosmo COS-F965NF 36-inch Dual Fuel Range is a European design that will bring beauty and elegance to any kitchen.
An 8200 ultra-quick burner, 17,400 BTU triple ring burner, 5000 BTU burner, and two 6,900 semi-rapid burners are included in the top 36-inch dual fuel range. As a result, greater cooking performance should be expected, allowing you to cook from a moderate simmer to a high temperature.
Furthermore, the Cosmo COS-F965NF 36 in. Dual Fuel Range's convection oven has a fan-assisted circular heating element for even cooking. Furthermore, it is constructed of corrosion-resistant 430-grade stainless steel to ensure that this model can withstand heavy use.
This equipment includes a control and in-display aid for precisely setting the cooking temperature and timer. It also has 8 cooking options, including convection broil, convection bake, traditional bake, high broil, pizza, light, defrost, and low broil.
Pros:
Both natural gas and LPG are compatible.
Control knobs that are simple to use
Heavy-duty stainless steel construction
1 year limited warranty
Cons:
The instructions could be more clearer
Top 4       ZLINE 36 in. Rangetop with 6 Gas Burners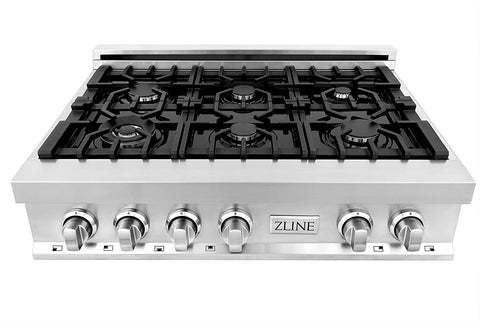 The ZLINE 36 in. has earned a slot on our list. With its strong structure, the Rangetop with 6 Gas Burners is a great choice. With a perfect strength-to-weight ratio, this model is built to last.
This appliance has six burners that provide cooking power ranging from 4,200 to 18,000 BTUs. For dependable cooking performance, these burners are heavy-duty and produced in Italy.
Plus, there's more. Cast-iron grates and a scratch-resistant porcelain cooktop are featured on the range top. It's even better because it has easy-to-clean top controls for a more precise cooking experience.
When it comes to cleaning, the burners on this top 36 dual fuel range are detachable for a hassle-free experience. Above all, the ZLINE 36 in. Rangetop with 6 Gas Burners gives your kitchen a sophisticated appeal.
Pros:
Six sealed burners made in Italy
Cleaning is simple
a large power range for cooking
A worry-free guarantee is included.
Cons:
Adjusting the flame can be not so easy
Top 5    ZLINE 36″ 4.6 cu. ft. Range with Gas Stove and Gas Oven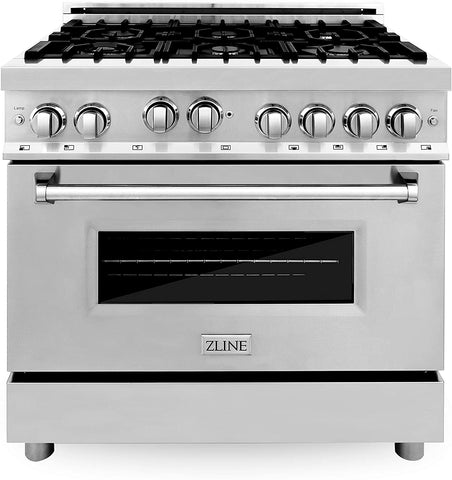 This 36-inch built-in gas range has six high-performance burners if you're looking for a huge stovetop. The ZLINE gas range boasts a 4.6-cubic-foot oven with two racks that easily slide in and out.
This high-quality gas range comes in a variety of finish colors to compliment your kitchen decor, including reds, blues, and other colorful hues.
Not only that, but this unit also includes a dual oven light, a double-wok burner, and three cast-iron grates for improved cooking results. The height of the range can be adjusted between 36 and 38.5 inches.
Pros:
There are six large burners.
Range height can be adjusted
Stainless steel that resists fingerprints
1 piece heavy-duty porcelain cooktop made in Italy
Cons:
Lacks a self-cleaning function